London City airport's operator has outlined plans to cut nearly 240 jobs as part of its response to the air transport crisis.
It has opened a formal consultation with staff on the restructuring measure which, it says, will affect 35% of roles.
Commercial services were halted on 25 March but, although they restarted on 21 June – and flights serve 17 destinations – passenger levels have remained "well below" those of last year, the operator states.
"This is expected to continue during the upcoming winter season," it adds.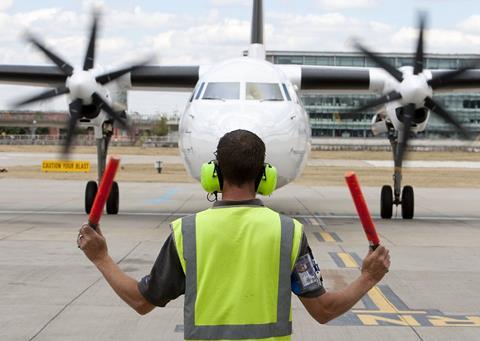 The operator has already taken steps to reduce executive salaries, utilise the UK government's furlough scheme, and cut non-essential expenditure.
It temporarily suspended a £500 million development programme which features a terminal expansion, but is maintaining work on other infrastructure including a new taxiway, stands, and baggage system.
"Major projects already underway will be completed as planned by the end of this year, providing increased capacity for when demand returns," says the operator.
London City chief Robert Sinclair adds: "We have held off looking at job losses for as long as possible, but sadly we are not immune from the devastating impact of this virus.
"Our focus in the coming weeks is to help all staff through this exceptionally difficult period."