Irkut's first domestically-powered MC-21 twinjet is still on course to conduct its first flight by the end of this year, according to the Russian trade minister.
Denis Maturov made the claim during a formal visit to the assembly plant in Irkutsk on 27 November.
He was briefed on the MC-21-310, the variant of the aircraft which is fitted with the Aviadvigatel PD-14 powerplant.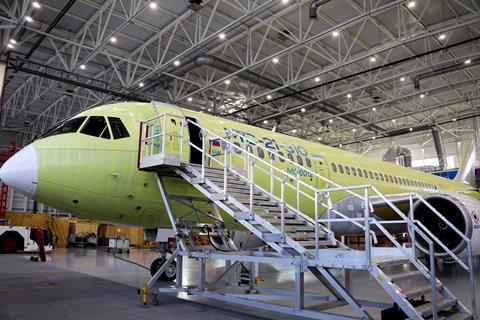 The PD-14 is the alternative to the Pratt & Whitney PW1400G fitted to the MC-21-300 version. All the flight-test aircraft to date have been PW1400G-powered.
Irkut says the fuel system of the -310 has been tested for leaks, and the PD-14s have undergone tests under standard conditions, along with the auxiliary power unit and engine-related systems on the aircraft.
Manturov says the MC-21-310 will "make its first flight with the PD-14 engine by the end of the year".
He adds that certification tests of the MC-21-300 are continuing, and that the developers are aiming for a Russian type certificate by the end of 2021.
"Then we look forward to validation according to the European standards of the European Union Aviation Safety Agency," he states.