Virgin Atlantic is to conduct a transatlantic flight next year using a Boeing 787 powered solely by sustainable fuel, under a UK government-funded initiative.
The aircraft will operate from London Heathrow to New York JFK, a service which the government is billing as the world's first net-zero transatlantic flight.
Virgin's 787 will be a Rolls-Royce Trent 1000-equipped airframe, and the engine manufacturer is part of a consortium associated with the flight, along with Boeing, Pratt & Whitney Canada and a number of universities and institutes.
The flight will use sustainable fuel sourced mainly from waste oil and fats, with the net-zero target achieved with supplementary use of biochar credits. Biochar is a carbon-ash material which can be used for carbon-capture.
"This challenge recognises the critical role that [sustainable fuel] has to play in decarbonising aviation and the urgent collective action needed to scale production," says Virgin Atlantic chief Shai Weiss.
"The research and results will be a huge step in fast-tracking [sustainable fuel] use across the aviation industry."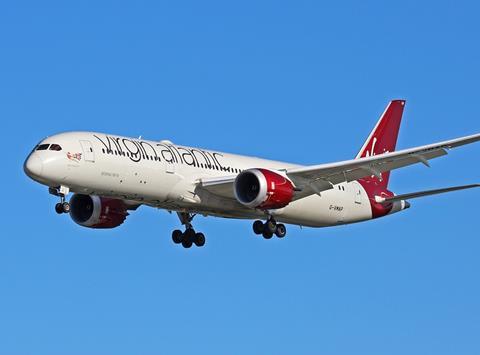 Aircraft are currently certified to use a maximum 50% blend of conventional and sustainable fuel.
Fuel for the 787 flight will, however, be entirely sustainable, demonstrating the potential for decarbonising long-haul sectors.
Rolls-Royce head of sustainability Rachael Everard says the company aims to have proven that its entire Trent and business-jet engine lines can be flown with 100% sustainable fuel by the end of next year.
The government intends to bring in a mandate requiring at least 10% of jet fuel to contain sustainable resources by 2030.
UK transport secretary Mark Harper says the flight will "pave the way for future generations".
"Flying from London to New York has symbolised aviation's ability to connect people and drive international progress," he says.
"It's now going to be at the forefront of cutting carbon emissions from flying."
Virgin Atlantic's consortium for the net-zero flight includes Imperial College London, the University of Sheffield, the Rocky Mountain Institute, and ICF.