Pandemic aside, Airbus' executive jet division has had a notable year, having recently unveiled its ACJ TwoTwenty and delivered its first ACJ350.
The company highlighted the capabilities of the TwoTwenty – a corporate version of the A220-100 airliner – on the first day of the VBACE virtual air show.
Executives stressed the jet's spacious cabin and its range, which is about 60% farther than the baseline A220's.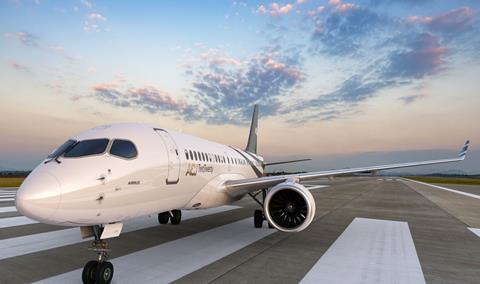 "With this new platform, and its cabin, we are really opening a new market segment – the extra-large business jet segment," says Airbus Corporate Jets (ACJ) president Benoit Defforge.
"We are at least two-and-a-half to three times larger than the largest ultra-long-range business jets," adds ACJ vice-president of commercial Stan Shparberg.
Airbus unveiled the TwoTwenty on 6 October. The new jet complements a business-jet portfolio that includes the ACJ319neo, ACJ320neo, ACJ330neo and ACJ350.
The airframe secured corporate aircraft operator Comlux as the TwoTwenty launch customer, with orders for two. Airbus holds orders for another four.
Deliveries are scheduled to begin as early as December 2022. Comlux, which has a completion centre in Indianapolis, will also outfit the cabins of the first 15 TwoTwenty jets.
The TwoTwenty will have ability to fly more than 12h, with 5,650nm (10,500km) range, compared to the airline variant's 3,450nm range.
Large-cabin business jets with similar range include Bombardier's Global 5500, Gulfstream G500 and Falcon 6X.
The TwoTwenty's cabin has more than 74sq m (800sq ft) of space, and comes equipped with a king-size bed, 55in-screen television and full stand-up shower. The jet provides a "spa-like experience", says Shparberg.
Shparberg says the A220 fits a unique niche, providing unprecedented space, notable range and competitive economics. Other aircraft can meet two, but not all three, of those standards, he says.
ACJs has taken orders and commitments this year for 13 aircraft, and delivered four jets, executives say. The orders include six TwoTwenty jets, four ACJ320neos and three ACJ330s.
Other airframers produce executive jet variants of airliners.
Boeing offers its Boeing Business Jets Max lineup; the BBJ Max 8, for instance, has some 6,500nm range, according to Boeing.
Embraer offers the ERJ-based Legacy 650E, which has 3,900nm range, and the E-Jet-based Lineage 1000E, which has 4,600nm range, according to that airframer.