Airbus's BelugaXL outsize freighter has secured certification from the European Union Aviation Safety Agency, 16 months after the aircraft's maiden flight.
The aircraft, formally known as the A330-743L, is set to replace the A300-600ST fleet used by the airframer's logistics operation to transport sections for assembly.
Airbus says the certification clears the BelugaXL for introduction in early 2020 – slightly behind the previous expectations of service entry this year.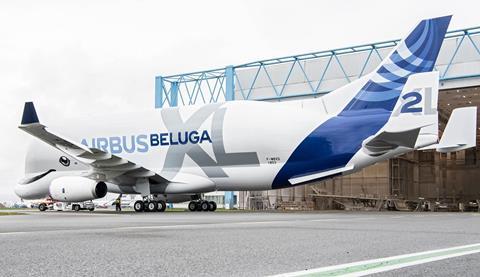 Six of the Rolls-Royce Trent 700-powered aircraft will be operated by the Airbus Transport International division.
Two have been used for the certification programme, which involved 200 flights and 700h of testing.
The BelugaXL, which has a maximum payload of 51t, has been designed to offer greater internal capacity, sufficient to carry two Airbus A350 wings.
EASA documentation shows the courier area behind the cockpit – to seat four people – had to be separately approved as part of the certification programme. No extended twin-engined operations clearance has initially been granted for the aircraft.
Two weight variants of the aircraft are listed, with maximum take-off weights of 227t and 205t, both with a maximum landing weight of 187t.