Boeing could need to reduce its planned 737 Max production ramp if Chinese aviation regulators do not lift the Max's grounding before year end, as Boeing predicts it will.
That is according to Boeing chief executive David Calhoun, who on 28 July reiterated that the airframer's production and delivery plans hinge on the unknown factor of when China will actually clear the Max to fly.
"If we get to the end of the year… and we are not within a minute of getting certification in some way, we do have to consider real actions with respect to what the future rate ramps will look like," Calhoun says during Boeing's second-quarter earnings call.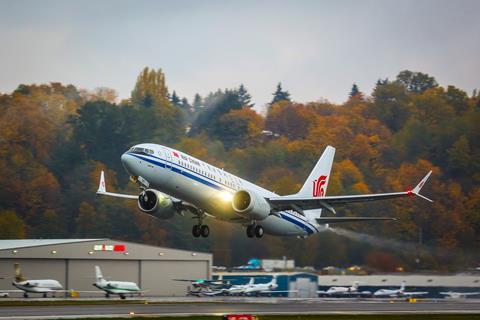 China was the first regulator to ground the 737 Max following the type's second crash in March 2019, and it has remained a holdout long after other regulators have green-lighted the Boeing narrowbody.
The US Federal Aviation Administration lifted the Max's grounding in November 2020, and Boeing has said that more than 160 of 195 global regulators have likewise cleared the Max.
China's delay in approving the jet comes amid a broader long-running trade dispute between the USA and China – a spat widely suspected to be affecting China's Max clearance. The Chinese market is critical for Boeing, projected to account for one-quarter of the aerospace sector's growth during the coming decade, Calhoun has said.
Boeing is now producing 737s at a rate of 16 monthly and aims to boost production to 31 jets monthly by early 2022.
But China's approval remains a wild card.
"The timing of remaining regulatory approvals will shape our delivery plans and our production rate ramp," says Calhoun. "We…still anticipate that the remaining regulatory approvals will occur this year, including China."
"Technical issues are being resolved," Calhoun adds without specification. "For the most part, I think they are all behind us."
Early this month, reports surfaced that Chinese regulators were willing to conduct 737 Max flights.
Calhoun says China has "a lot of natural incentive" to approve the Max, noting Chinese airlines have some 100 Max stuck on the ground and that China is preparing to host the 2022 Winter Olympics.
"We remain in active discussions with our Chinese customers on their fleet planning needs and will continue to engage with leaders in both countries, to urge a productive dialogue," he says.