Boeing marked a second straight month of positive order activity in March, with orders for new jets offsetting an ongoing stream of 737 Max cancellations.
The Chicago-based company received orders for 196 jets – all 737s – during the month and logged 156 737 Max cancellations. Those include newly disclosed scrubbing by Turkish Airlines of 50 737 Max.
Those changes left Boeing with net new orders in March for 40 aircraft. Boeing's order activity had swung into positive territory in February, ending a multi-month streak during which cancellations outnumbered orders.
Boeing's March activity also included 29 aircraft deliveries, including two 787s – the first deliveries of that type since Boeing halted 787 handovers after October 2020 due to quality issues.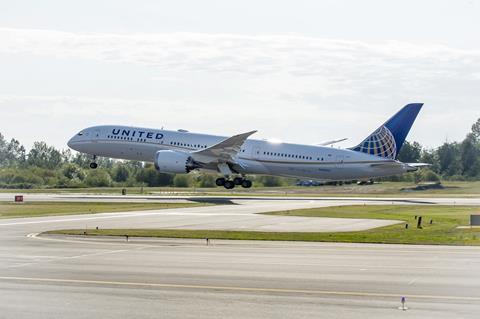 Boeing's 196 new March orders included 100 737 Max 7s ordered by Southwest Airlines and 24 Max ordered by Miami-based private equity company 777 Partners, which owns a stake in Canada's Flair Airlines.
In March, Boeing also received three 737 Max orders from unidentified customers, an order for one Max-based Boeing Business Jet (BBJ) for an unnamed buyer and orders for 11 737NG-based P-8 military surveillance jets. The P-8 deals included nine aircraft ordered by the US Navy and two by Boeing Defence Australia, Boeing says.
Additionally, Alaska Airlines ordered 32 737 Max in March, though only 23 were incremental to Alaska's order book. The airline offset the other nine orders by cancelling nine previously placed Max orders – changes made to move forward delivery dates, Boeing says.
Likewise, in March United Airlines ordered 25 737 Max, and cancelled 25, for the same reason.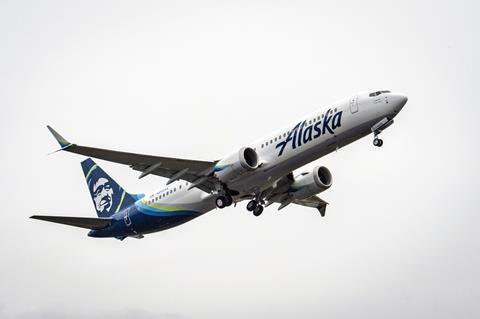 Boeing says it continues making progress in returning the 737 Max to service. Regulators lifted the jet's grounding in November 2020, and Boeing resumed deliveries shortly after. However, in recent days Boeing recommended that some airlines remove a subset of Max from service pending maintenance related to an unspecified back-up power control system.
The 156 cancellations in March included the Alaska and United aircraft, and 50 737 Max nixed by Turkish. That airline retained options to purchase 40 of those jets, Boeing says.
Aircraft lessors also cancelled a bundle of Max orders in March. Air Lease nixed three jets, BOC Aviation scrapped one, China Aircraft Leasing cancelled 26, CDB Aviation nixed 16 and GE Capital Aviation Services axed six, Boeing says.
Additionally, unidentified customers cancelled 19 Max orders and one 737 Max-based BBJ during March.
Also during the month, Boeing shifted orders for 14 737 Max out of its backlog and into its "ASC-606" accounting bucket, reserved for orders that Boeing suspects might not actually close due to factors including the financial condition of customers.
But Boeing also moved 16 widebodies out of ASC-606 and back in to its backlog – meaning it now expects those previously uncertain widebody deals will go through.
Boeing's deliveries in March included 19 737 Max, among them two jets to Air Lease, one to Alaska, one to American Airlines, two to Copa Airlines, two to China's ICBC Leasing, one to SMBC Aviation Capital, seven to Southwest Airlines and three to TUI Airways.
Boeing also delivered three P-8s in the month, and seven widebodies: one 747-8 Freighter to UPS, two 767-300Fs to FedEx, two 777-300ERs to KLM and two 787-9s to United, Boeing says.
The March adjustments leave Boeing's backlog at 4,054 aircraft, up from 4,041 at the end of February. The backlog includes 3,240 737s, 12 747s, 97 767s, 263 777s and 442 787s.