Boeing is overhauling some of its management structure in an effort to streamline and integrate functions, improve cost efficiency and better prepare the company to succeed after the coronavirus pandemic.
"We will recover from this crisis, but positioning ourselves now for what will be a significantly smaller, and more competitive, industry after the pandemic subsides requires us to resize, reshape and continuously review our business – starting at the top with our leadership structure," says a Boeing official.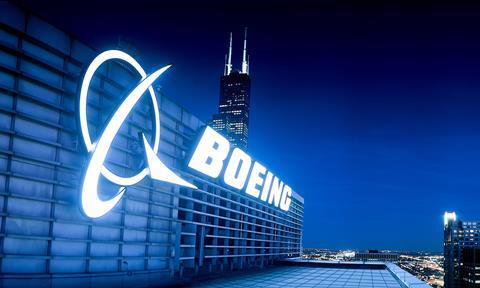 The overhaul, announced 21 April, includes formation of a new group called "Enterprise Operations, Finance and Strategy". That division will be led by chief financial officer Greg Smith and tasked with streamlining Boeing's operation and improving productivity and supply chain health.
The group will include "teams responsible" for functions such as manufacturing, supply chain operations, finance, corporate audit, strategy and administration.
Boeing senior vice-president of manufacturing, supply chain and operations Jenette Ramos will take on a "special assignment in support" of Smith's new group.
"This new global organisation will embed operational excellence and consistent lean principles across Boeing and its supply chain, and restore production and supply chain health as Boeing and the broader aerospace industry recover from the COVID-19 pandemic," Boeing says.
The restructuring will also see Boeing combine its legal and compliance programmes, which include functions such as global trade controls, ethics and business conduct.
Led by Boeing chief legal officer and executive vice-president of global compliance Brett Gerry, the new legal-compliance division will "help the company proactively address new legal and compliance obligations arising from an increasingly complex global regulatory environment", Boeing says.
As part of the changes, Boeing intends to name a new chief compliance officer, who will report to Gerry, chief executive David Calhoun and Boeing's board audit committee.
Boeing also says Diana Sands, senior vice-president of internal governance and administration, will retire "later this year". She has worked at Boeing for nearly 20 years.
Boeing says the changes will simplify its management, improve efficiency and make Boeing's corporate infrastructure more cost effective. The company has not announced layoffs, and has disclosed no changes to its commercial aircraft division.
The restructuring follows Calhoun's announcement earlier this month that Boeing would need to transform to align with an industry changed by the coronavirus.
"When the world emerges from the pandemic, the size of the commercial market and the types of products and services our customers want and need will likely be different. We will need to balance the supply and demand accordingly," Calhoun said in a 2 April note to staff.