Canada's civil aviation regulator has "validated" Boeing's 737 Max updates, indicating it will lift the jet's grounding in January.
"Validation of these changes means that these modifications can now be incorporated on Canadian registered aircraft," Transport Canada says on 17 December.
The US Federal Aviation Administration lifted the Max's grounding on 18 November with an airworthiness directive; days later Brazil cleared the jet to fly.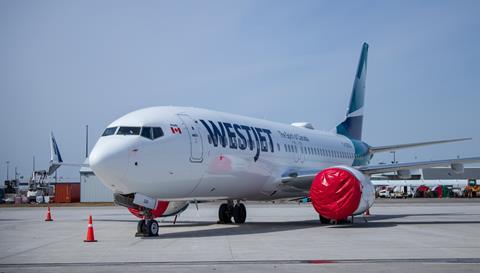 Transport Canada calls the validation "an important first step in the eventual return to service of this aircraft in Canadian airspace".
"In January 2021, the department expects to issue a Canadian airworthiness directive which will stipulate the Canadian design changes that must be incorporated in Canadian aircraft," Transport Canada adds. "At the same time, the department will also mandate the training requirements for air crew through an interim order."
Specifically, Transport Canada will require an "enhanced flight deck procedure" that allows pilots to disable the jet's stick-shaker when erroneously activated by an angle-of-attack sensor.
"This feature will help to reduce pilot workload given what has been learned from the two tragic accidents, and has been fully evaluated by Transport Canada's flight-test pilots," Transport Canada says. "There will also be differences in training including training on the enhanced flight-deck procedure."