Recent cancellations of Boeing 737 Max orders by lessors likely reflect unique pricing pressures faced by the leasing sector and could foretell additional terminations for the beleaguered narrowbody.
Still, aerospace analysts view the Max as having a viable future and say cancellations also benefit Boeing by easing backlog pressure that has intensified since the twinjet's March 2019 grounding.
"These cancellations actually offer Boeing some relief. They now have a bit more breathing space in the schedule," says Ascend by Cirium head of valuations George Dimitroff. "They can do a better job of juggling everybody else's deliveries."
Ronald Epstein, managing director of aerospace and defence at Bank of America Merrill Lynch, says cancellations reflect lessors' eagerness to avoid placing jets with airlines at depressed lease rates. "I don't think anybody wants to be the first lessor to place the airplane" in the current environment, he says.
Analysts say Max values started declining well before the coronavirus pandemic. They doubt the airline industry will return to 2019 traffic levels until perhaps 2023, meaning aircraft values will remain depressed for the foreseeable future.
"[Airlines] don't need all those airplanes," Epstein says.
Since the start of the year, Boeing's Max backlog has lost 289 jets due to order cancellations and order conversions to widebodies, according to information released by Boeing, airlines and lessors.
Lessors and finance companies accounted for most of those changes. Cancellations include: CDB Aviation (29), GECAS (69), Avolon (75), and Japan Investment Advisor (10). Air Lease, meanwhile, converted nine Max to three 787s, according to available information.
As for airlines, this year Air Canada has cancelled 11 Max orders, Brazil's Gol 34 and Czech carrier Smartwings five. Another 37 cancellations came from undisclosed customers. Oman Air has also converted 10 Max orders to four 787s.
Customers have cancelled orders for 289 737 Max since the start of 2020
Customer
Cancelled aircraft
Max delivered
Remaining Max on order
Air Canada
11
24
26
Air Lease
9*
15
126
Avolon
75
3
55
CDB Aviation
29
2
70
GECAS
69
29
82
Gol
34
7
95
Japan Investment Advisor
10
-
-
Oman Air
10*
-
10
Smartwings
5
1
2
Unnamed customers
37
-
-
289
* Air Lease converted nine Max orders to three 787s. Oman converted 10 Max orders to three 787s.
Source: Boeing and customers
Additionally, to align with accounting standards, in March Boeing removed another 139 Max from its backlog. Those orders remain under sales contracts but Boeing has less confidence the deals will close, it says.
Boeing did land new orders for 18 737NG-based military jets in the first quarter. The company's 737 backlog at the end of March, not excluding the CDB and GECAS cancellations in April, stood at 4,079 jets.
Customers that cancelled orders have stressed they remain committed to the Max, and Boeing says it still holds orders for roughly 370 Max from those lessors involved in the recent terminations.
In the last year, Boeing converted 51 Max orders to 18 widebody orders and has otherwise "worked to rebalance" the Max's lessor exposure. Such moves give the airframer greater flexibility to manage deliveries and help "protect" Max values, it says.
"Where it has made sense, we have adjusted our orderbook to line up with the fact that we have been building fewer Max airplanes than planned," Boeing says. "In light of the unprecedented impacts from the Covid-19 pandemic, these adjustments also help restore supply and demand in the market, especially in the leasing channel."
Lessors hold a particularly large share of the Max backlog – 943 aircraft, about 20% of Boeing's current outstanding Max orders, according to Cirium data. That figure may be even higher, as Cirium data shows 721 orders from undisclosed customers, although it also does not reflect all the recent cancellations.
Lessors hold about 870 outstanding Max orders
Air Lease
126
Aviation Capital Group
97
AerCap
95
SMBC Aviation Capital
89
GECAS
82
BOC Aviation
79
CDB Aviation
70
Avolon
55
China Aircraft Leasing Company
42
ALAFCO Aviation Lease and Finance Company
40
Jackson Square Aviation
30
Goshawk
20
VEB-Leasing
20
Sberbank Leasing
14
ICBC Leasing
10
Total
869
Note: Boeing lists 721 orders with undisclosed customers
Source: Cirium fleets data (21 April 2020) and Boeing
Analysts say 737 Max lessors face unique pressures. Many leasing companies ordered the Max in 2012 or 2013, shortly after the programme was launched, when the market was booming and fuel prices were higher, making the Max's efficiencies more valuable. Sales contracts typically include annual price escalations of 2-3% until delivery, says Dimitroff.
As a result, lessors likely face paying $51-53 million for newly delivered 737 Max 8s ordered in 2012.
Max values began slipping after the type's second crash in 2019 and its subsequent grounding, and have declined further since.
Ascend now puts 737 Max 8 full-life values at $45 million, down about 10% in one year. Monthly lease rates have slipped to the $250,000-320,000 range, down from $375,000 monthly for some early Max deliveries in 2016 and 2017.
By comparison, Cirium puts the full-life value of an Airbus A320neo at $49.6 million, largely unchanged year-on-year. Lessors also hold a large portion of Airbus' A320neo-family order book, but downward price pressure caused by lessors competing has largely already eased, Dimitroff says.
But depressed Max values have left lessors struggling to place those aircraft at lease rates commensurate with contracted purchase prices.
"You have a terrible lease rate factor and a terrible return on that investment, which doesn't really cover the risk," says Dimitroff.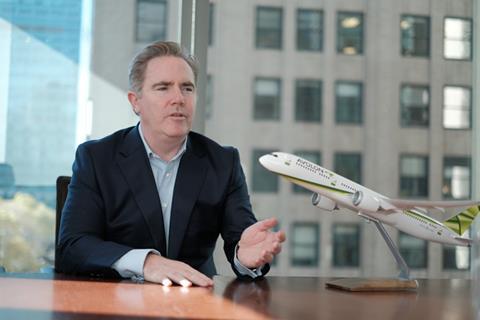 Dimitroff doubts Max values will climb above $50 million again – unless fuel prices surge to around $100 per barrel, passenger demand returns to pre-coronavirus levels, lessors jettison more aircraft and lease rates recover to about $340,000 monthly. "Even then, competitive pressures could prevent higher pricing," he says.
In normal circumstances, loss of deposits dissuade customers from cancelling orders. One year prior to a delivery, customers might have paid deposits equal to 20% of an aircraft's list price, equating to roughly $24 million in payments on a 737 Max 8, Dimitroff notes.
These are not normal times, however. In addition to the Max issues, the coronavirus pandemic has led airlines to ground thousands of jets. The fleet of stored passenger aircraft now stands at about 14,500, roughly two-thirds the global fleet, according to Cirium.
But it was the Max grounding that made cancellations viable for some customers. All aircraft sales contracts include provisions allowing customers to walk away from orders without a penalty (and with deposits returned) if deliveries are delayed by six to 12 months. Leasing companies, in turn, afford similar rights to airline customers, says Dimitroff.
The Max has been grounded since 13 March last year - a period now stretching towards 14 months.
"Lessors don't want to take delivery in this environment," says Dimitroff. "If you have the right to walk away, why not walk away?"
Boeing declines to discuss the provisions in its sales contracts.
Those "walk away" clauses make further lessor cancellations possible, if not likely, say analysts. However, they suspect lessors will retain some Max orders and possibly place additional commitments in the future.
Boeing also faces the prospect of losing more Max orders from airlines, though analysts see orders from major US carriers as safe.
Top 10 airline customers for 737 Max
Southwest Airlines
249
Flydubai
237
Lion Air
237
VietJet Air
200
United Airlines
171
SpiceJet
129
Ryanair
135
Jet Airways*
125
Gol
95
Norwegian
92
Note: Excludes aircraft via lessors. *Suspended ops
Boeing lists 721 orders with undisclosed customers
Total backlog, all customers, per Boeing: 4,079
Source: Boeing/Cirium fleets data (21 April 2020)
American Airlines, Southwest Airlines and United Airlines hold close to 500 unfilled Max orders combined. Analysts suspect those airlines may defer orders but will ultimately take the deliveries. According to recent reports, American plans to continue taking new Max aircraft while accelerating retirements of older jets.
"I would imagine the major US carriers will take their planes, it's just a matter of when," Epstein says, adding that airlines must plan beyond the current crisis.
But orders from other carriers might be less certain. Some of Boeing's top Max customers include Flydubai (237 Max orders outstanding), Indonesia's Lion Air (237) Vietnam's VietJet (200), India's SpiceJet (129) and Jet Airways (125), Ryanair (135), Gol (95) and Norwegian (92), according to Boeing's figures.
Norwegian has cancelled some 85% of its flights and was struggling before the coronavirus crisis, VietJet relies heavily on the hard-hit Chinese tourism market, SpiceJet is grounded until at least 3 May and while Jet Airways suspended operations in 2019, Boeing still counts its orders in its backlog.
Another airline with 40 Max orders, Virgin Australia, this week entered voluntary administration.
"There are definitely some airlines in the order book that are on the edge," says Dimitroff.
Still, he estimates that 80-90% of Boeing's Max backlog is secure. "The industry as a whole needs these orders, even if it takes three years… or even four years, to return to 2019 levels," he says.