South African regional carrier Airlink is to acquire a 40% shareholding in the Namibian-based carrier FlyNamibia, which is operated by Westair Aviation.
The agreement also involves a codeshare through which FlyNamibia will use Airlink's designator.
Airlink has not disclosed the terms of the strategic equity holding, but says it will "accelerate" the African state's recovery from the pandemic and support expansion of scheduled airline services.
It adds that it will provide technical and commercial skills training, and development support, for the Nambian operation.
"We will be well-placed to achieve the economies of scale to make it economically feasible to connect and serve Namibia's smaller towns and cities with Windhoek and other regional destinations," says Airlink chief Rodger Foster.
"This will also support our, and Namibia's, shared longer-term ambition to establish [Windhoek's] Hosea Kutako international airport as the central connecting hub and base."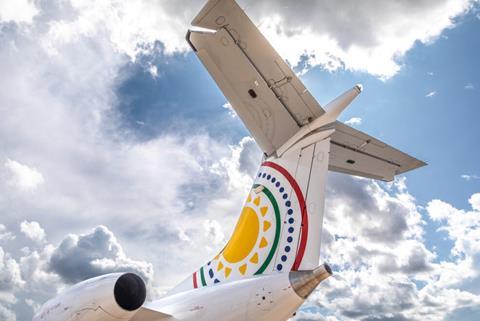 FlyNamibia is a privately-owned carrier which emerged from Westair Aviation, originally as FlyWestair, in mid-2019 before adopting its current name last year.
The carrier operates domestic and regional routes from Windhoek, including services to Cape Town, and conducts safari flights.
Its fleet includes a small number of Embraer ERJ-145s but also several Cessna utility aircraft models.
FlyNamibia managing director Andre Compion says the country will depend increasingly on air connections to "realise its full economic potential".
With the Airlink tie-up, Compion adds, the carrier will be better-placed to serve foreign and local businesses and tourists.
Airlink serves Windhoek and the Namibian city of Walvis Bay from both Johannesburg and Cape Town.