British Airways pilots are to be consulted on a package involving pay cuts and a series of other measures intended to protect crew jobs, with the cockpit union admitting the conditions of the deal are unlikely to be bettered.
Cockpit union BALPA has been discussing ways to avoid cutting over 1,250 pilots, after British Airways embarked on a wide-ranging restructuring which threatened some 12,000 positions at the airline.
The union believes compulsory redundancy will still affect up to 270 pilots, although it expects additional "voluntary mitigation" could bring the figure down further.
It will consult with 4,300 pilots at the airline on the proposed package which, says the union, is "the best that can be achieved" under the "incredibly difficult" circumstances of the air transport crisis.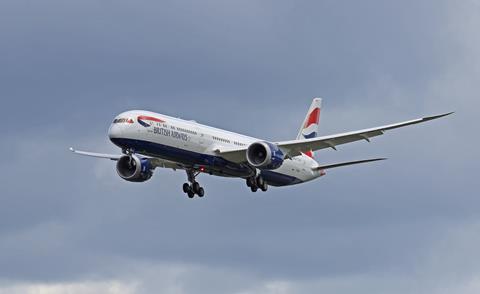 BALPA stresses that the airline will not undertake to "fire and rehire" pilots – a term to describe dismissing crews before taking them back on reduced terms and conditions, in order to cut costs.
Measures include establishing a holding pool equating to 300 pilots, on reduced pay, which will remain on standby in preparation for a pick-up in demand.
This will be complemented by voluntary part-time working, voluntary severance, and voluntary external secondment.
To fund the scheme pilots will take a pay cut initially set at 20% but falling to 8% over the next two years, and subsequently declining towards zero.
BALPA says it is recommending the proposals to crews, and a ballot on acceptance will run to 30 July.
"It is hugely disappointing that, during our extensive negotiations, British Airways would not accept the full package of mitigations we put forward," says general secretary Brian Strutton, adding that compulsory redundancies would be a "matter of huge regret".
BA's parent company, IAG, says it has "welcomed" the decision to hold the consultative ballot of the union's pilots.