Canadian operator Cargojet is to defer freight conversion of several Boeing 777s and 767 in response to forecasts of slower global economic growth rates.
It had been planning to introduce eight 777s to expand its international charter reach and reinforce its domestic network.
Cargojet allocated four of these, all 777-200s, to serve as part of a strategic pact with DHL Group agreed in March last year. DHL will be the launch customer for Cargojet's 777s.
Conversion of these four aircraft will continue, and Cargojet says it will take delivery over 2024-25 as planned.
But it says it will "curtail its capital expenditures" and defer introduction of the other four 777 freighters – all -300ERs – although the carrier will still have "full access" to the conversion delivery slots.
Purchase and conversion of one of the 777-300ERs has been "postponed indefinitely", it states, and the carrier has tentatively agreed to sell two -300ERs in the second quarter of this year.
It says its arrangement with its conversion partner give the carrier "full flexibility" to "maintain optionality" on the slots for 2024-26, and give it the opportunity to better-time its capital commitments.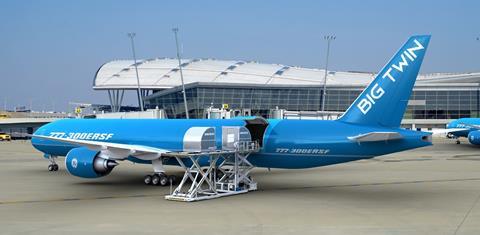 Cargojet says it based its decision on lower growth-rate forecasts from the US Federal Reserve, World Bank, and Bank of Canada.
"As passenger airlines retire [777s] to move up to [787s], the feedstock market for [the 777] is expected to remain strong, allowing Cargojet to initially divest its feedstock [777s], freeing up liquidity immediately," the carrier states.
The airline also states that it is deferring conversion of two Boeing 767-200s from 2023 to 2024, in order to preserve capital further.
Cargojet's fleet includes 34 freighters, comprising 14 767-300s and two 767-200s, which it owns, and five more 767s which it leases, as well as 13 owned 757-200s.
It says it has open purchase agreements to acquire four fully-converted 757s, and has agreed to lease a converted 767-300 – with a purchase option – in the second quarter. The airline adds that it has conversion slots reserved for a number of other 757s and 767s in its fleet.
Cargojet disclosed the conversion deferrals as it released full-year financial results showing it generated pre-tax earnings of C$220 million ($161 million) on revenues of C$980 million.