The ongoing coronavirus outbreak is taking its toll on the Cathay Pacific group's financial performance, with the group warning that it expects to incur a "substantial loss" for the first-half of this year.
Cathay adds in its full-year financial results that the outbreak, which first originated in China late 2019, will "adversely impact" its liquidity position.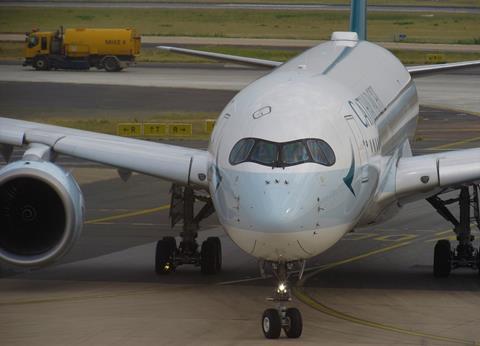 The carrier will continue to impose "substantial passenger capacity and frequency reduction" through May, as the outbreak wears on. This is on top of the 30% reduction in ASKs for February, and massive 65% cut for March and April.
As of end February, passenger load factor has shrunk to about 50%, with year-on-year yield also seeing significant decreases.
"It is difficult to predict when these conditions will improve," says Cathay chairman Patrick Healy.
Cathay has been hard hit by the coronavirus outbreak, suspending a significant number of flights due to falling demand and related travel restrictions into the territory. It has also urged its staff to take unpaid leave, and has parked several aircraft.
In discussing the outlook for 2020, Healy notes that the carrier has suffered two major blows going into the new year.
"Following the impact of social unrest in Hong Kong in the latter half of 2019, the first half of 2020 was expected to be extremely challenging financially, with an already-reduced winter season capacity.
This has been exacerbated by the negative impact of COVID-19," says Healy.
In its full-year results, Cathay saw operating profit dip 4.3% to HK$3.4 billion ($437 million), following a worse-than-expected second-half result that was affected by political unrest in the territory.