China Eastern Airlines is conducting a series of flight tests with its first Comac C919, pending service entry in the spring of 2023.
Shanghai-based China Eastern says the flight tests will run to 100h and see the aircraft operate to nine domestic destinations from Shanghai Hongqiao Airport.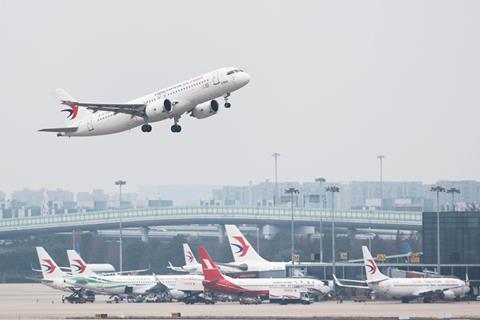 The flights will simulate the entire operational process, including passenger boarding, servicing, and dispatch. China Eastern, however, indicates that the flights will not carry passengers.
The first trial flight, MU7801, took place on 26 December, with the aircraft flying from Shanghai to Beijing Capital International Airport.
Flight tests will end in February 2023, with revenue service set to start in the spring of 2023.
"China Eastern Airlines strives to officially put the C919 into commercial passenger operation in the spring of 2023," says the carrier.
"At that time, C919 will appear on high-quality boutique routes in Shanghai, Beijing, Xi'an, Kunming, Guangzhou, Chengdu, Shenzhen and other places."
It adds that nine pilots, 24 cabin crew, and 13 maintainers have completed training for C919.
After years of programme delays, the first C919 was delivered to China Eastern on 9 December.
Although a Chinese programme, the C919 is entirely reliant on western systems, including its CFM International Leap-1C engines.
The aircraft is pitched as a rival to the Boeing 737 and Airbus A320 programmes. Cirium fleets data shows that the C919 has garnered over 1,000 committments, almost entirely from Chinese airlines and lessors.