After falling to an all-year low in August amid a resurgence of coronavirus infections, China's three largest carriers reported a sharp rebound in domestic traffic — though recovery still appears to be some way off.
In traffic results released for September, the 'Big Three' — comprising Air China, China Eastern Airlines and China Southern Airlines — regained lost ground in domestic traffic, as flying gradually resumed with the gradual easing of travel restrictions within the country.
China in July and August witnessed a spike in coronavirus cases — caused by the more infectious Delta variant — which prompted the authorities to impose strict travel restrictions.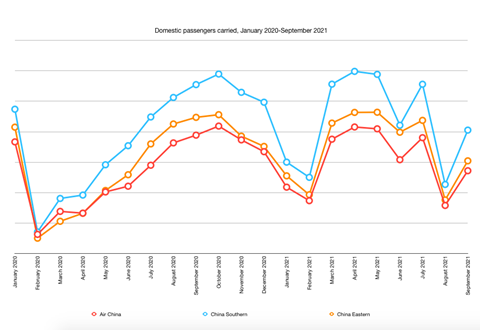 In September, the 'Big Three' also saw a surge in bookings around month-end in the lead-up to China's 'Golden Week' national day holidays, which helped lift domestic traffic slightly.
Still, traffic figures were nowhere near the peaks seen between March and May this year, and was also lower on a year-on-year basis.
During the month, Air China carried 5.4 million domestic passengers, representing a 72% increase against August. On a year-on-year basis, this was a 30% decline.
The Star Alliance carrier saw traffic rise 71% month on month, with capacity increasing 49%. Compared to September 2020, Air China's domestic traffic fell 28%, while capacity shrank nearly 17%.
China Eastern, meanwhile, flew 6.09 million domestic passengers in September, an uptick of 73% month on month. Against the same month in 2020, it represented a 32% decline.
Year on year, the Shanghai-based airline saw capacity and traffic shrink 18.2% and 32%, respectively. Like its compatriots, China Eastern's also reported a rebound in traffic and capacity against August.
As for China Southern, it carried 8.1 million domestic passengers for the month — nearly 79% higher month on month, but a 27% decrease compared to 2020.
Traffic rose 76% against August, with capacity increasing 53%. On a year-on-year basis, the Guangzhou-based airline saw traffic dip 26% and capacity shrink 16%.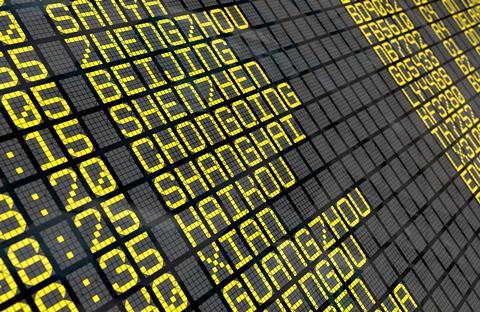 The traffic results from the 'Big Three' come days after the Civil Aviation Administration of China (CAAC) said Chinese carriers carried fewer passengers year on year during the 'Golden Week' holiday, which is usually seen as a peak travel season in China.
Data from CAAC shows that between 1 and 7 October, Chinese carriers flew close to 9.3 million domestic passengers, a 20% decline compared to the same period in 2020.