Israeli flag-carrier El Al is considering options to increase its fleet by up to 13 aircraft to keep up with its targets for passenger traffic and market share over the next five years.
It is aiming to align the expansion with plans to replace its older Boeing 737 jets from 2025.
El Al currently has 45 aircraft, comprising 24 737-800s and -900s plus 15 Boeing 787-8s and -9s and six 777-200ERs.
It indicates that it will look to increase its single-aisle fleet by four to seven aircraft, giving it 28-31 jets, when it implements the 737 replacement.
The replacement programme will be "subject to availability" from aircraft manufacturers, the carrier says.
It has been extending the leases on a number of 737s as part of its capacity plans, and has also agreed this year to wet-lease an Airbus A320 over the course of March-December.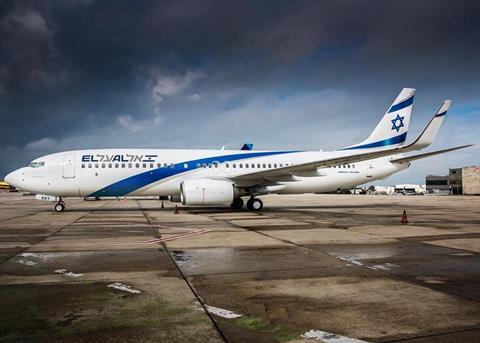 For its long-haul network El Al is already intending to take the 787 fleet to 17, through the completion of its original order for 16 plus the introduction of one additional aircraft.
But it has outlined plans to acquire another five long-haul aircraft by 2028.
"Expansion and renewal of the fleet will reduce air pollution through the adoption of more efficient aircraft," the carrier says, adding that it will also lower fleet age.
El Al says that both dry- and wet-lease capacity could be used to expand the single-aisle and long-haul fleets.
It is modernising its 777s by updating the interior configuration of four aircraft to match that of the 787s.
El Al is also progressing with plans to bring in a dedicated freighter. It says it signed an agreement with a foreign company in February for dry-lease of a 737-800 cargo aircraft, over a six-year term. The carrier expects the freighter to arrive in April this year.