Moroccan flag-carrier Royal Air Maroc has reached a codeshare agreement with Israeli counterpart El Al, tightening the newly-formed ties between the two sides.
RAM inaugurated a service between its Casablanca hub and Tel Aviv on 13 March.
It operated a Boeing 787 on the route, as flight AT228, carrying a Moroccan delegation of cultural and economic figures.
Oneworld alliance member RAM will operate the route four-times weekly initially before increasing "rapidly" to five, it states.
"We offer our customers direct flights between the two countries in less than five hours and a unique travel experience aboard our aircraft," says RAM chief Hamid Addou.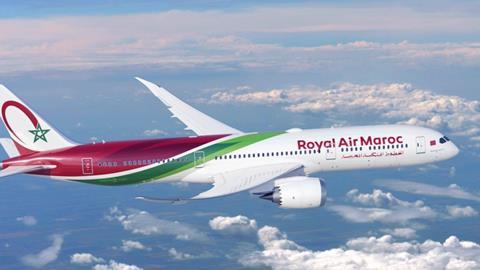 RAM has since sealed a codeshare agreement with El Al, which takes immediate effect.
It will cover the non-stop services between Morocco and Israel operated by the two carriers – El Al is serving Marrakech thrice- weekly – but RAM says this represents "only a first milestone" in their co-operation.
Addou says the agreement will offer more options and a greater number of connections to passengers of both airlines.
Diplomatic ties between Morocco and Israel were cemented as part of the Abraham Accords agreement which resulted in links between Israel and several Arab countries.
"This collaboration is a great accomplishment that has been achieved in a relatively short time since the Abraham Accords established official relations," says El Al chief Avigal Soreq.