Israeli flag-carrier El Al is pressing ahead with plans to introduce a dedicated freighter, indicating that the aircraft will arrive in the second quarter of next year.
It has not identified the type but indicates that it will be a narrowbody aircraft in its latest fleet plan, outlined in the airline's third-quarter financial statement.
El Al says it signed a memorandum of understanding in November with a foreign lessor to dry-lease the cargo aircraft. It has yet to convert this to a binding agreement.
The carrier had been informed by civil aviation regulators that its licence to operate dedicated freighters could be cancelled because it did not meet the requirement of having at least two cargo aircraft.
But El Al says a draft amendment to flight operation regulations, published on 3 October, will allow airlines to hold a cargo transport operating licence with just a single aircraft.
El Al says it intends to renew its narrowbody fleet "in the coming years" and will "make a request" to aircraft manufacturers.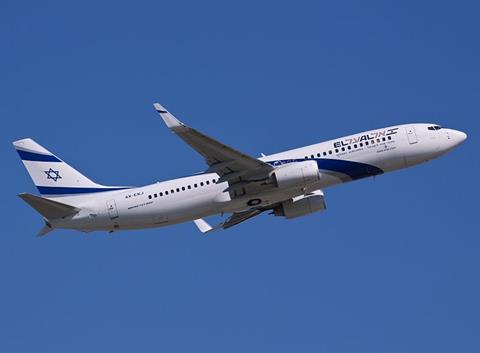 The airline's immediate fleet plan includes "accelerated" narrowbody fleet activity.
It has 21 Boeing 737s in operation – a mix of -800s and -900s – and three more in storage, and the carrier is also considering introducing wet-lease capacity in response to demand.
But the timeline for El Al's widebody operation appears to have slipped slightly.
It aims to receive its last Boeing 787, bringing its fleet of the type to 16, in the third quarter of 2023 rather than the first half.
The airline also says its consideration for acquiring additional 787s is being put back to the first half of 2024.
El Al is re-introducing Boeing 777-200ERs and expects to operate "three or four" of its six aircraft next year. It is converting the 777s' interior configuration to match its 787s.
This conversion will increase the number of seats in the twinjets and provide an "improvement in customer experience", the carrier states.