Israeli flag-carrier El Al is to explore the possibility of additional Boeing 787s from the second half of next year, once it completes introduction of its current fleet.
The airline has 15 of the type – comprising 12 787-9s and three 787-8s – and it is expecting to receive one more 787-8 in the first half of 2023.
Delivery of this aircraft, the last in the batch to which it had committed, was deferred from early 2020 – the point at which the pandemic started affecting the airline sector.
El Al has since undergone an extensive restructuring, while 787 production itself ran into problems forcing a prolonged halt in deliveries.
But the carrier says it will be looking into 787 acquisition in the second half of 2023.
The airline's original agreement with Boeing included options for 787-10s, the largest variant of the 787 family.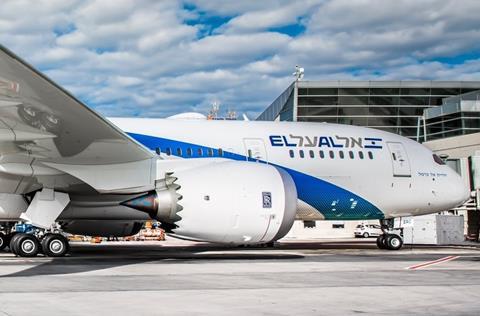 El Al says the combination of a prolonged period of reduced activity followed by the sharp increase in sales "expose" the carrier to challenges of limited production capacity and its ability to meet demand for flights.
The carrier is gradually to return its Boeing 777-200ER fleet to operation from August.
It has six of the 279-seat type and four of them – the interiors of which will be upgraded next year with a 787 configuration – will be returned to service by the end of 2023.
As part of its exploration of fleet expansion the airline is to look not only at additional 787s but also options for aircraft wet-lease.
Under a recently-signed agreement with the airline's pilots, El Al will be entitled to introduce "a number of additional aircraft" under wet-lease in order to mitigate the limitations of its own production capacity.
Israel's civil aviation regulator has informed El Al that it intends to amend the airline's its commercial licence to remove the clause on freighter operation, because the carrier has not own or dry-leased freighters since mid-2019, and instead uses wet-leased capacity.
El Al says that, according to the regulator, its inclusion is a violation of licence terms, but the carrier has a few days to appeal and consider its cargo strategy.