Israeli flag-carrier El Al has posted a full-year net loss of $413 million, compared with the previous year's loss of $531 million.
El Al's revenues reached $857 million – higher than the $623 million during the pandemic-hit 2020 but still far below the near-$2.2 billion in the year before the crisis.
Revenues for the fourth quarter stood at $265 million, the highest for any individual quarter of the year.
But El Al's capacity in the fourth quarter was still just 46% of that offered in the same period of pre-crisis 2019.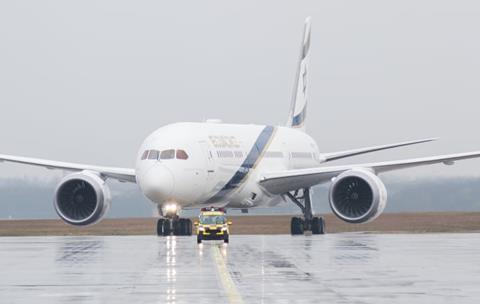 It says the fourth quarter was affected by the return of pandemic-related travel restrictions, but subsequent easing of the limitations has resulted in a rise in sales over the first part of 2022.
El Al also points out early signs of improvement at EBITDAR level, with slightly-positive figures for each quarter.
It is still dealing with its financial needs for the recovery plan, and states that it intends to raise additional capital and debt in order to bridge cash-flow demands.