Middle Eastern carrier Emirates is aiming to recruit a further 2,500 personnel over the next six months to ensure it has the resources necessary to maintain its recovery track.
It is supplementing a previous drive, unveiled in September, to take 3,000 cabin crew and 500 ground-services staff.
Emirates says it will expand it requirement by recruiting 600 pilots, plus 1,200 engineering staff and another 700 ground workers.
The Dubai-based carrier says it is bracing for a "surge" in customer demand "sooner than expected".
Emirates has rebuilt about 90% of its network – and aims to have 70% of pre-crisis capacity in place by the end of this year – and the airline is re-introducing higher-capacity aircraft types and increased frequencies.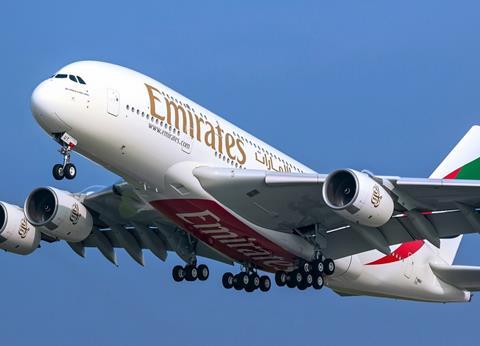 "With the positive signs in the economic recovery and continuous growth of demand, we are hopeful to be back to where we were pre-pandemic, from mid-2022," says Emirates Group chairman Sheikh Ahmed bin Saeed Al-Maktoum.
He says the airline has been "prudently" resuming services as international restrictions lift. Dubai, he adds, is experiencing a "quick recovery" and that this underpins the recruitment drive.
The carrier has started redeploying Airbus A380s to ply its more popular routes, supporting its fleet of Boeing 777-300ERs – all of which are in service, either for passenger or cargo services.
Emirates will increase the number of A380 destinations from 18 to 27 by the end of November.
It says the last two A380s on order – and the final two to be produced – will be delivered by December, by which point around 50 A380s will have returned to operation. The airline has 263 long-haul jets and has several new types – including the Airbus A350, Boeing 787-9 and 777X – on order.