UK-based carriers are recovering more slowly from the Covid-19 pandemic than their European contemporaries thanks to travel restrictions that were in place for longer, according to Eurocontrol data.
For the week of 5-11 October, the best performing budget carrier Ryanair operated an average 2,319 flights per day – only 8% down on the same week in 2019. In contrast, of the six airlines highlighted, EasyJet was the sector's laggard, operating just 1,039 flights, 44% lower than 2019.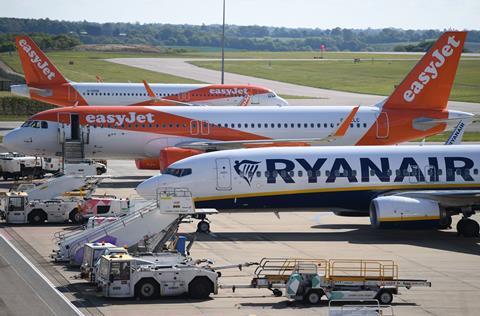 Among the legacy carriers British Airways was similarly affected, operating 50% fewer flights – 470 per day – than in the same week in pre-Covid 2019. The sector leader Turkish Airlines, which benefits from a strong domestic market and cargo operation, conducted 1,192 flights per day, 13% down on the equivalent week in 2019.
Of the other carriers highlighted – which include Air France, KLM and Lufthansa – only SAS, 48% lower than 2019, saw a decline approaching that of BA's.
Presenting the data on 13 October, Eamonn Brenan, director general of the body, of which the UK is still a member post-Brexit, said that both airlines were "struggling due to the UK's travel restrictions", which have been eased more slowly than elsewhere.
BA has also seen a higher impact than its contemporaries from the restrictions governing travel to the USA, he says, while noting that "we are hoping to see an improvement here in the coming months".
Overall European flight levels for the week were about 70% of those in the equivalent period of 2019; short-haul was at 74% and long-haul in the 60% range.
Although citing a generally improving picture, Brennan pointed to the continued rise in the price of jet fuel, now over $200 a barrel, which is "providing another challenge to the recovery".
Combined with lower yields, the higher fuel cost promises a "profitability squeeze as we go through the difficult winter period".