Taiwanese carrier EVA Air is amending its order for Boeing 787-10s, swapping some of the outstanding aircraft for 777 freighters and 787-9s.
The airline says it has reached agreement with Boeing to exchange seven of the 787-10s yet to be delivered for four 787-9s and three 777Fs.
EVA Air says the swap relates to an original order for 20 aircraft – comprising 18 787-10s and two 777-300ERs – placed in November 2015.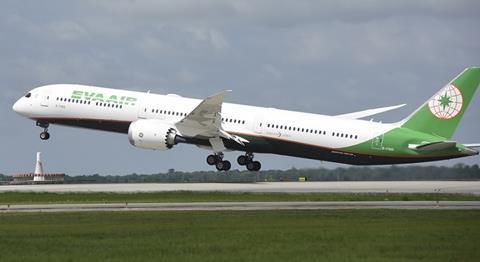 The carrier adds that the decision reflects "changes of market demands" as well as a "continuous optimisation" of its network and fleet.
It states that the price of each 777F will not be greater than $382 million and that for each 787-9 will not be more than $318 million.
EVA Air adds that the total transaction will not exceed $7.324 billion.
It had previously signalled a potential change to the 787-10 order, in response to the air transport crisis. The carrier has taken delivery of five of the type.