Finnair is having to cope with contrasting scenarios on its route network, with European, US and southern Asian routes showing evidence of normalisation, while the carrier is facing travel restrictions in northern Asia and the effects of closed Russian airspace.
As a result of this situation, and the rising fuel price, the carrier is expecting a comparable operating loss of €65 million ($69 million) for the second quarter, although this would improve on the €133 million loss in the first.
Finnair expects that, over the summer season, it will operate 70% of pre-crisis 2019 capacity although total capacity deployed will be nearly 80% if leases of aircraft and crews to other airlines, including British Airways and Lufthansa Group, are taken into account.
The company has opted to wet-lease to other carriers to generate additional revenues, and avoid laying off Finnish-based personnel over the summer. The leases will provide work for 600 staff.
"We continue to review our fleet plan, evaluating both additional wet-lease opportunities as well as the potential sale of idle aircraft," says Finnair chief Topi Manner.
Finnair has sold four Airbus A321s and recorded an impairment of €33 million on four Airbus A330s owned by the carrier.
The airline forecasts that demand in the third quarter will be "closer" to pre-crisis levels in Europe, North America and southern Asia – including India, Singapore and Thailand.
Finnair's first-quarter performance reflects the continuing effects of the pandemic, particularly the emergence of new virus variants, which "stalled" the ramp-up in demand for two months – constraining revenues to €400 million.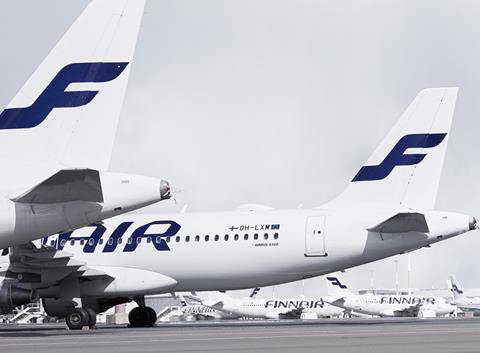 The carrier adds that the Ukraine conflict has forced it to prepare for a "prolonged" closure of Russian airspace.
"Our updated network places more emphasis on connections to the west and South Asia," says Manner, with new routes to Seattle, Dallas and Mumbai.
Finnair has also embarked on a new cost-reduction initiative aiming to save €60 million through distribution, aircraft leases and other operational improvements.
"We will complement the cost savings programme as we progress with determining our long-term response to the Russian airspace closure," says Manner, adding that the company is considering "different solutions" and it has an "active dialogue" with the Finnish government.
He says the airline's cash position is "still strong", and that it is converting an undrawn €400 million hybrid state loan – arranged in March last year – to a capital loan.