Norwegian carrier Flyr has reached tentative agreements to operate charter services for the summer season.
The airline says it has signed a letter of intent with an undisclosed partner covering flights which will operate from May to October this year.
Chief commercial officer Thomas Ramdahl says the carrier "looks forward to reaching a final agreement", and says the pact demonstrates "confidence" in the airline.
The potential deal is valued at NKr90 million ($9.2 million).
Flyr has also agreed a summer charter service worth at least NKr30 million with an unidentified entity.
Ramdahl says it will involve a "significant number" of flights. "This is a testament to our service and product," he adds.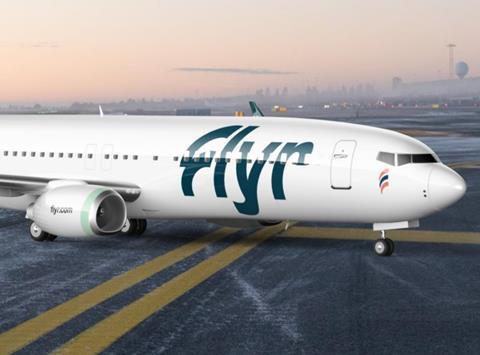 Flyr, which operates a fleet of Boeing 737s, has been re-organising its strategy in order to cope with seasonal demand fluctuation.
Although it has 12 aircraft – a mix of 737-800s and Max 8s – it heavily reduced their utilisation for the winter.
It transported 1.6 million passengers last year, with an average load factor of 74%, and is aiming to increase this figure to 80-90%.
Flyr has undergone a recent change of senior management, while dealing with the winter burden, having been affected by the pandemic in the early part of 2022 and inflation pressures later in the year.
But new chief executive Brede Huser remains optimistic about the airline's prospects for the spring and summer.