Cathay Pacific will operate only around 10% of its capacity for the rest of year, and just about half for the coming year.
This comes as it warns of a very slow recovery in passenger traffic, despite seeing some signs of month-on-month growth.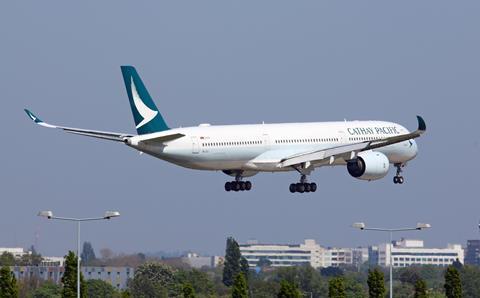 It is also the first time Cathay has given a clear indication of its recovery prospects in the coming year, after "studying numerous scenarios facing the industry".
Cathay group chief customer and commercial officer Ronald Lam says operating at about half-capacity in 2021 is "already the most optimistic [plan] that we can adopt at this moment".
Elaborating, he adds: "We assume we will be operating well below a quarter of pre-pandemic capacity in the first half of next year but will see a recovery in the second half of the year – only assuming the vaccines currently under development prove to be effective and are widely adopted in our key markets by summer 2021."
Cathay and sister carrier Cathay Dragon continued to see weak travel demand in September, amid travel restrictions and quarantine requirements aimed at curbing the spread of the coronavirus outbreak.
Both carriers operated at about 9% capacity, just one percentage point higher than August.
Cathay and Cathay Dragon carried about 47,000 passengers for the month, 98% lower year on year. Compared to August, however, it represented a 32% jump.
ASKs tumbled 92% year on year, while RPKs for the month fell 98%
Month on month, the two carriers saw ASKs rise 8.4%, with RPKs increasing nearly 36%.
Passenger load factor was around 25%, down nearly 49 percentage points year on year. Still, this was higher than the 19.9% load factor it reported in August.
September's passenger traffic results were buoyed by student traffic to the UK, as well as transit passengers, says Cathay, with the carrier launching three charter services in the month from Hong Kong to London to cater to demand from transit passengers from Mainland China.
Transit passengers, meanwhile, accounted for about a third of total traffic for the month.