Global airline passenger traffic in the first month of this year rose 67% compared with January 2022 and reached 84.2% of pre-pandemic levels for the corresponding period in 2019, according to IATA.
International traffic more than doubled over January of last year, led by strong growth among Asia-Pacific carriers as markets reopened, reaching more than three-quarters of pre-Covid levels. Domestic traffic rose 32.7% year-on-year in January and reached 97.4% of the January 2019 level.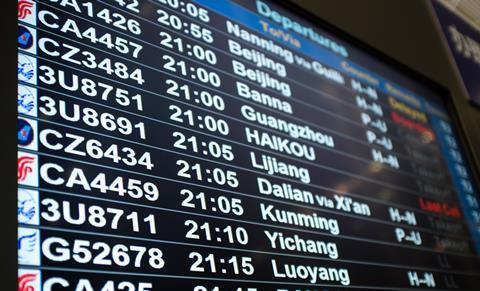 "Air travel demand is off to a very healthy start in 2023," says IATA director general Willie Walsh. "The rapid removal of Covid-19 restrictions for Chinese domestic and international travel bodes well for the continued strong industry recovery from the pandemic throughout the year."
Walsh adds that the airline industry has "not seen the many economic and geopolitical uncertainties of the day dampening demand for travel".
Total ASK capacity in January was lifted 35.5% year-on-year, resulting in an overall load factor of 77.7%. The biggest increases in both traffic and capacity were seen in Africa and Asia-Pacific. North American carriers added the least capacity – 19.6% more than in January 2022 – though that was off a relatively high base. Latin American airlines had the lowest traffic growth at 24.3%,while traffic growth in Europe was 53.2% on a 27.1% increase in capacity.
The strongest domestic growth in January was in the Australian market, followed by India and then Japan, IATA's data shows. China's domestic RPKs rose 37.2% in January, which IATA says represented the first month-over-month annual increase since August 2022.