Brazilian low-cost carrier Gol expects to report third-quarter net operating revenue down 50% from the same period of pre-pandemic 2019.
Gol projects that it generated R$1.8 billion ($325 million) in the quarter. Additionally, the carrier estimates in an 11 October investor update that it operated 84% of the routes it had operated in the third quarter of 2019, with an average load factor of 82%.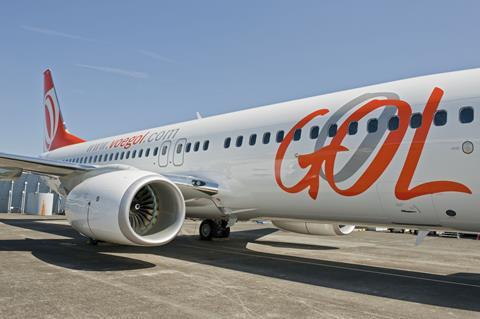 The carrier had R$1.8 billion in liquidity at the end of the September 2021.
"Including the financeable amounts of deposits, Gol's liquidity sources total approximately R$3.8 billion," Gol states. "This is consistent with the company's liquidity levels throughout the pandemic."
Gol's finance chief Richard Lark states: "Our focus heading into [the fourth quarter] is on diligently matching our capacity to rising demand in the business travel segment, as well as leisure travel in advance of the holiday season, increasing seat inventory for Black Friday sales and the return of international routes to Punta Cana, Cancun and Montevideo."
Daily new cases of Covid-19 in Brazil have been declining steeply since late June amid the rapid vaccination of the population in that country. The rate of daily new cases per million population fell from 366 on 25 June to 46 on 11 October, World Health Organization data shows.
"This progress on vaccinations is promising for the continued recovery of Brazil's economy and a ramp-up in travel demand as Brazilians feel safe to return to their normal routines," Gol's chief executive Paulo Kakinoff stated in the carrier's 29 July second-quarter earnings release.
Gol intends to increase its capacity in the fourth quarter by 30% compared with the previous quarter "in anticipation of stronger seasonal demand".