Bahraini carrier Gulf Air is to open scheduled to services to the Israeli hub at Tel Aviv, in a further air transport tie-up between the states following normalisation of diplomatic relations.
Gulf Air is also set to explore codeshare opportunities with Israeli flag-carrier El Al under a comprehensive memorandum of understanding between the two airlines.
The agreement was signed during a formal visit by Bahraini government representatives to Israel.
Under the agreement Gulf Air is set to start twice-weekly flights on the Manama-Tel Aviv route, subject to government clearance, on 7 January next year.
Gulf Air says the pact opens the path to greater commercial co-operation between the carriers in the areas of cargo, frequent-flyer programmes, and engineering.
The airline has already reached a line maintenance agreement with Israel Aerospace Industries.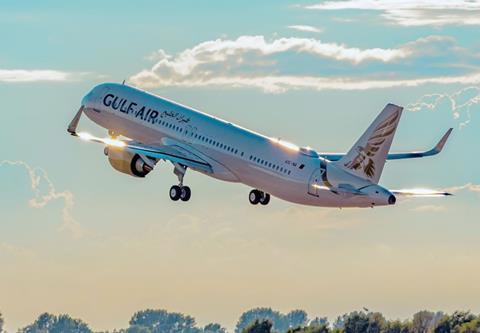 "We hope this is merely the beginning of developing further aviation opportunities and look forward to work with our friends and colleagues at El Al and support each other to achieve bigger goals," says Gulf Air chairman Zayed Alzayani.
"We trust this new route will promote traffic providing commercial and social gains for both countries, while paving the path for numerous connections to the rest of our networks via the two destinations."
El Al chairman David Brodet adds that the chance to explore a deeper co-operation with Gulf Air is a "direct result of the changes taking place in the region".