IAG has pulled back its capacity planning for this year and next, after the initial encouraging signs of booking recovery in the air transport crisis started to level off.
It is expecting third-quarter capacity to be 78%, rather than 74%, down on last year's figure, while the fourth quarter will involve a sharper correction – down 60% instead of the 46% outlined in IAG's previous planning scenario.
Despite this reduction, IAG is still predicting that it will break even in terms of net cash flows from operating activities during the fourth quarter.
"This is as a result of mitigating actions taken to reduce operating expenses further and enhance working capital," it states.
Over the full year 2021, the company adds, planned capacity will be down by 27% against the earlier forecast of 24%.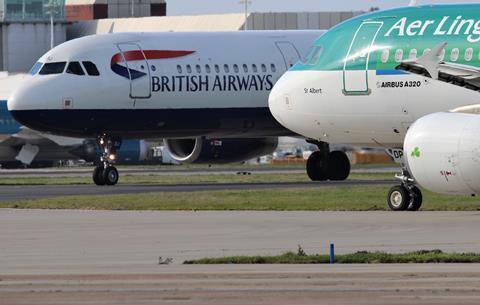 It is attributing the slower recovery to travel restrictions and continuing quarantine requirements, and IAG says it has not altered its outlook that a return to pre-crisis passenger demand will not be reached until at least 2023.
The easing of restrictions, after practically non-existent activity in April-May, stimulated an increase in bookings during June.
But IAG says it has observed an "overall levelling-off" in bookings since July, with short-haul falling slightly and a delayed recovery of long-haul.
"Where travel markets have re-opened without border restrictions and quarantine requirements IAG has been encouraged by the level of pent-up demand that exists for air travel," the company says.
Although it has cut back its capacity expectations, IAG has not amended the 'downside' scenario it used while planning the size of a capital increase needed to work through the crisis.
This capital increase was approved by shareholders on 8 September, and IAG has disclosed details of the intended rights issue under which is aims to raise €2.74 billion ($3.24 billion) in gross proceeds through the sale of nearly 2.98 billion new shares.
IAG says the capital increase will enhance liquidity and provide additional defence against a prolonged downturn.
Shareholders will be entitled to subscribe to three new shares for every two subscription rights held. Each existing share equates to one subscription right, and the share price has been set at a 35%-discounted €0.92.
Qatar Airways, which has 25.1% of IAG, has already agreed to subscribe fully to the new offer.
IAG says its overall liquidity at the end of August amounted to €7.6 billion, including €5.8 billion in cash and €1.8 billion in undrawn and committed facilities. The cash includes a £750 million ($975 million) payment from American Express, largely relating to a pre-purchase of point for IAG's loyalty scheme Avios.