Icelandair Group has deferred a planned share offering until August, as it strives to reach stakeholder agreements on which the stock issue is conditioned.
The company had been aiming to seal these agreements by 29 June, a date already pushed back by two weeks from the original mid-June estimate.
Icelandair Group says it intends to initiate the proposed share offering in August if it can complete negotiations with the various stakeholders during July.
But while the company has received "positive feedback" from most creditors over its restructuring effort, talks with some "pivotal" parties have yet to be concluded, it states.
These parties include aircraft leasing companies and a credit-card acquirer.
Icelandair Group is also still holding discussions with Boeing over further compensation arising from the grounding of Icelandair's Boeing 737 Max fleet, as well as future Max deliveries.
"Discussions with [these] parties have progressed over the past weeks and might be concluded in the upcoming days if a constructive dialogue is maintained," says the company.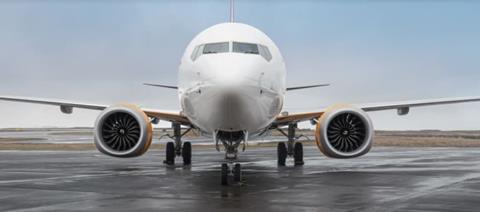 Concessions from creditors and the completion of the share offer are vital to receiving an Icelandic government-backed credit facility.
Icelandair Group has already managed to reach new collective-bargaining agreements with pilots, mechanics and cabin crew, whose support is essential to the restructuring.
But the company is cautioning that, should the talks with other stakeholders fail, it will need to embark on an amended restructuring process without the credit facility.
If this should be the case, it says, the process could take up to 12 months and it would need to obtain agreements to defer payments to creditors.
Icelandair Group states that its cash position amounts to around $150 million, which equates to more than three months' fixed operational costs under the current circumstances.
It has been aiming to raise around $200 million through the planned share issue.