Russian operator Rossiya is to base its initial Sukhoi Superjet 100s at Moscow Sheremetyevo, as it prepares to start receiving the type under an agreement with parent Aeroflot Group.
Rossiya says the agreement to transfer the aircraft from the Aeroflot fleet was signed on 21 December, and that it will receive 44 of them by the summer season of 2021.
Aeroflot Group's board had recently detailed the planned shift to Rossiya of over 40 Superjets sourced from three leasing companies.
Rossiya says the replenishment of its fleet, part of a network revision under which it will operate feeder and regional services, will make it the largest Russian operator of domestically-built aircraft by early 2022.
It states that the Superjets will be flown in both a two-class configuration – with 87 seats, including 12 in the business cabin – as well as a single-class, all-economy layout.
Rossiya will take the first aircraft by the end of this year, stationing them at Sheremetyevo, it says.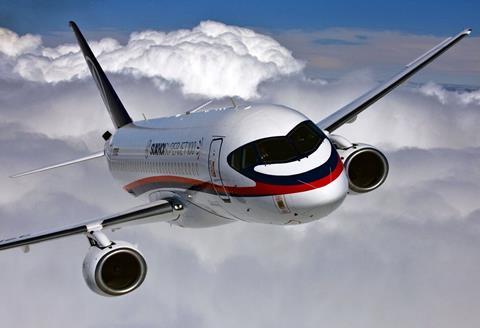 The carrier states that it is "completing preparations" for commencing operations with the type, developing a route network and establishing a group of 24 crew members.
"Large-scale operation of domestic aircraft will strengthen Rossiya's position as one of the leading carriers in the country," it adds.
Aeroflot Group owns just under 75% of Rossiya, which uses a range of long- and short-haul jets including Boeing 747s, 777s and 737s as well as Airbus A320s.
While it will serve Aeroflot as a feeder, Rossiya is also intended to become, by 2028, the largest airline on Russian routes bypassing the Moscow and St Petersburg hubs.
Aeroflot Group says the operator will become a focus for Russian-built aircraft development, with a network of servicing facilities.