Italian operator ITA Airways has reached a formal lease agreement for 12 Airbus aircraft, including a pair of A330neos, with AerCap.
The agreement covers 10 A320neos in addition to the two long-haul twinjets.
AerCap says the aircraft are scheduled for delivery to the new airline – which commenced operations last October – over the course of 2023-24.
While Airbus had not previously listed AerCap as an A330neo customer, the lessor has acquired US rival GECAS which had 12 A330-900s on order.
ITA chief technology officer Francesco Presicce says the introduction of the aircraft is "perfectly in line" with the airline's fleet plan.
The carrier had previously set out a fleet modernisation strategy which centred on a range of Airbus long- and short-haul types.
ITA has already agreed a firm order with the airframer covering 28 aircraft.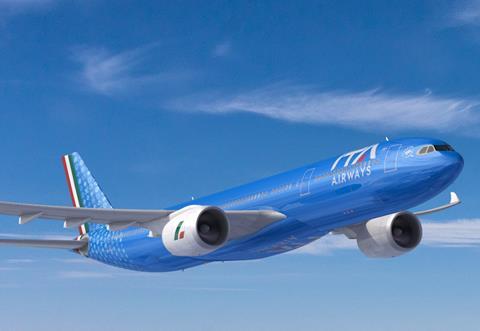 "This agreement [with AerCap] represents a further step in our strategy of building a new environmental-friendly fleet with leading-edge technologies which will optimise efficiency, quality of service and significantly reduce the environmental impact," adds Presicce.
"ITA places the best customer service at the centre of its strategy with a strong focus on sustainability. The collaboration with AerCap allows us to improve cost-efficiencies across our fleet."