Middle Eastern carrier Flydubai is preparing for a large influx of Boeing 737 Max jets, with 20 due to be delivered to the airline this year.
The deliveries will begin in March, and help to raise Flydubai's capacity as it recovers from the pandemic.
Flydubai has a fleet of 60 737s, a mix of 34 737-800s, 23 Max 8s and three Max 9s.
"[This year] we will see the largest number of aircraft delivered in any year since the launch of the airline," says chief executive Ghaith Al Ghaith.
"With the lifting of restrictions across our network and increasing demand for travel, we are cautiously optimistic about the year ahead notwithstanding the geopolitical situation and its potential effect on the pricing of commodities."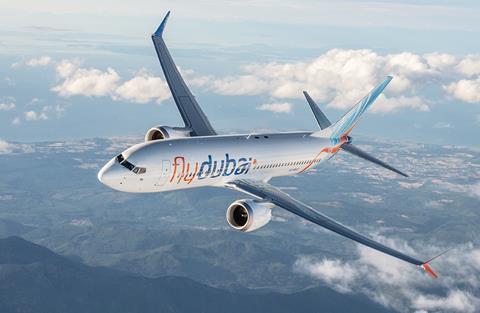 The carrier agreed last year to cut back its aircraft orders with Boeing, removing 65 jets. At the end of 2021 it had taken delivery of 25 from the backlog with another 161 due.
Its business model has enabled the airline to turn in a full-year profit of Dhs841 million ($229 million), after generating revenues of Dhs5.3 billion.
Flydubai opened 22 routes last year including 13 to unserved destinations from its base at Dubai.
"As demand returned these strong fundamentals have translated into a significant improvement in our financial performance," says Al Ghaith.
While passengers were reluctant to book travel early, he adds, they continued to travel with shorter booking windows.
Over the second half of the year the airline benefited from easing travel restrictions, and flight activity passed pre-pandemic levels – with 6,430 services – in December.