Germany's Lufthansa Group is facing a one-day pilot strike at two carriers after failure to reach a collective agreement, while cockpit crews at sister airline Eurowings have put additional pressure on the parent company.
Pilots at Lufthansa and Lufthansa Cargo have called a 24h strike for 2 September.
The industrial action follows the latest efforts to negotiate an agreement with pilot union Vereinigung Cockpit.
"Lufthansa must present a significantly-improved offer in order to avert labour disputes," says the union's collective bargaining policy chair, Marcel Grols.
"We're too far apart at the moment."
The union claims Lufthansa Group took advantage of the chance to negotiate but did not enhance its offer.
"So the only thing left for us to do is to enforce our demands with a labour dispute," says Grols, adding that the pilots are seeking salary compensation and a "future-proof" structure for remuneration for "all professional groups".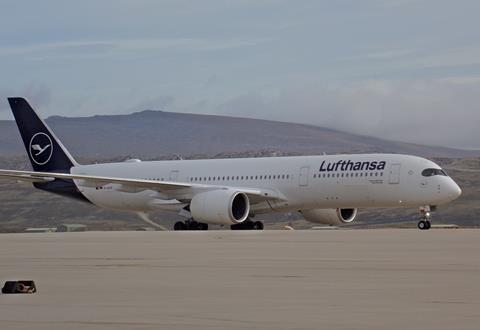 Lufthansa says it will "do everything possible" to limit the impact of the strike, and chief human resources officer Michael Niggemann says the company has "no understanding" of the union's strike call.
Niggemann insists the company has put forward a "very good and socially-balanced offer", despite the continuing impact of the pandemic crisis.
Lufthansa Group says its 18-month agreement would provide additional basic monthly remuneration for pilots. The talks have also involved discussions on an agreement guaranteeing a minimum fleet size for Lufthansa and Lufthansa Cargo.
But it claims the union is demanding an initial 5.5% wage increase by the end of the year plus above-inflation compensation from the beginning of 2023. Lufthansa believes this will raise cockpit personnel costs by 16% over two years.
Lufthansa Group also says the union is asking for salary-structure benefits which are "beyond justification", and claims the overall demands would hike cockpit costs by some €900 million, more than 40%, in the two-year period.
Eurowings' pilots have edged in the direction of their own industrial action with a vote to continue pursuing the current collective bargaining path.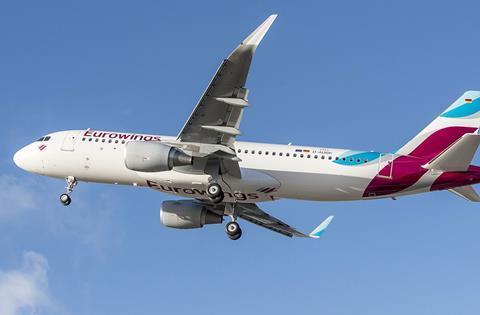 While not a vote to strike, the strong support from the ballot – with nearly 98% in favour, on a turnout of almost 90% – demonstrates solidarity for the aims of the bargaining committee in talks over a new agreement.
Grols says the Eurowings vote is a "signal" amounting to a "yellow card" for the airline.
"It's not enough to sit at the negotiating table," he says. "You also have to be willing to find a solution."
He says the demands of Eurowings pilots focus on "urgently-needed relief" with regard to such matters as maximum flight duty time and rest periods.
Grols states: "We want working hours that enable a minimum of plannability for a family life."
He argues that pilots are concerned that maximum workload – while remaining within permissible limits – should not be viewed as the "permanent" level of "everyday flying".