Scandinavian carrier SAS is reviewing long-term financial projections for 2024-26, with preliminary indications that stronger-than-expected demand will generate higher revenues and earnings towards the end of this period.
SAS had previously estimated revenues of SKr49 billion ($4.7 billion) for 2026 but believes this figure will be greater, while it is also predicts pre-tax earnings will be above the earlier projection of SKr3-4 billion.
The airline is maintaining a forecast of SKr40 billion in revenues, and pre-tax losses of SKr4-5 billion, for fiscal 2022-23 and reiterates that it expects to return to positive earnings in 2023-24.
"Economic uncertainties with increasing interest rates and cost inflation are likely to affect the travel industry going forward, but the overall underlying demand for travel remains healthy and continues its strong trend," says chief executive Anko van der Werff.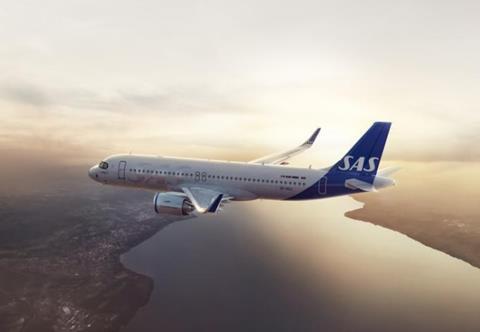 SAS disclosed the forecast revision as the carrier – which is still restructuring under US Chapter 11 bankruptcy protection – revealed first-quarter pre-tax losses of SKr2.45 billion in the three months to 31 January, and net losses of SKr2.7 billion.
Revenues for the period reached nearly SKr7.9 billion as strong passenger demand continued, although this figure was still more than 18% below pre-crisis levels during the first quarter of fiscal 2019-20.
But SAS's load factor for the quarter reached 69.3%, practically level with the pre-pandemic figure for the same period.
"We are pleased that so many passengers are returning to SAS," says van der Werff.
He says the carrier is preparing for a "busy" summer season, during which it will open 20 new routes and offer over 100 destinations.