Middle Eastern carrier Emirates had returned more than half of its Airbus A380 fleet to service by the end of the financial year in March, having already restored full Boeing 777 operations.
Passenger seat capacity for the company over 2021-22 was around 56% down on pre-crisis levels, according to the company's full-year figures.
Emirates has a total of 118 A380s, after receiving its final five in 2021, including the last of the type to be produced.
After phasing out a 777-300ER during the year, as well as a 777 freighter, the airline retains a fleet of 262 jets including 124 777-300ERs, 10 777-200LRs and 10 777Fs.
The company states that it has extended operating leases on 12 aircraft, most of which were due to retire this year.
Emirates says it has taken the step as it "anticipates delays" in new aircraft deliveries. Boeing has been experiencing difficulties with 787 deliveries and has also pushed back 777X entry into service.
But Emirates adds that its order backlog "remains unchanged at this time". The airline has 197 aircraft yet to be delivered.
These include 115 777X models and 30 787-9s, as well as 50 Airbus A350-900s and a pair of 777 freighters. It has obtained committed offers to fund the 777Fs, due for delivery this year, through Islamic finance leases.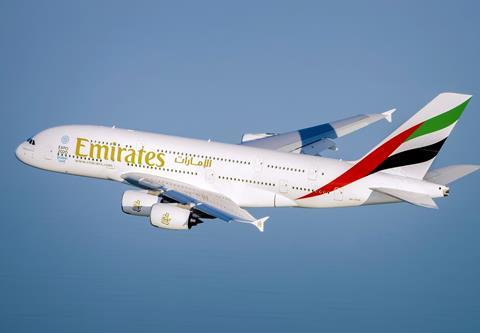 "Despite the challenging environment, Emirates remains optimistic about the increase in long term travel demand," the company says.
It adds that confidence in its business model and mid- to long-term prospects are reflected in the "notable" support it has received from lessors and financing partners.
Over the course of 2021-22 the company raised a total of Dhs9.7 billion ($2.6 billion) in financing for aircraft and general corporate purposes, through term loans, revolving credit and short-term trade facilities.
Emirates adds that it has repaid Dhs4.5 billion of a total Dhs17.5 billion raised during the pandemic crisis.