Turkish budget carrier Pegasus saw international capacity and traffic exceed pre-Covid levels in the second quarter of this year, as leisure demand in particular "outpaced initial expectations".
That development helped the carrier to a €28 million ($28.5 million) operating profit for the three months to 30 June, Pegasus said on 15 August, with strong demand momentum expected to continue through the rest of the year, amid a "significantly improved outlook for operating profitability" and "strong peak season yields".
A net loss of €40 million for the second quarter was partly blamed on an "unrealised FX loss of net €45 million", however, as the euro weakened against the US dollar.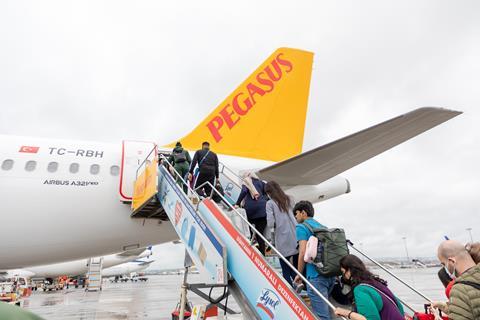 Nevertheless, record second-quarter revenue of €504 million was 24% up on the same period in 2019 and reflected high yields and a "robust" ancillary performance, the Istanbul-based carrier states. It came despite overall passenger numbers being at 88% of 2019 levels on capacity at 110% on the same basis.
International seats made up 56% of Pegasus' total during the period, with the 3.8 million passengers transported on such services marking a 200,000 uplift from 2019 levels. Domestic passenger numbers were, however, down 1 million at 2.8 million on the same basis.
A second-quarter domestic load factor of 78% and an international one of 79% compared with 92% and 83% respectively in the same period of 2019.
Pegasus notes that an 81% increase in fuel expenses drove a 129% year-on-year increase in overall costs, pushing cost per available seat kilometre up 27% compared with 2019.
The carrier generated €160 million in cash during the quarter, leaving its cash reserve – after deducting bank loans and debt instruments – at €237 million, up from €77 million at the end of the first quarter.
Full-year capacity is forecast to come in at 5-10% above 2019 levels.