Portugal's finance minister has dismissed TAP Portugal chair Manuel Beja and chief executive Christine Ourmieres-Widener following a report into a controversial severance payment to a former TAP administrator.
The fallout from the payment to Alexandre Reis, for which Portugal is seeking the repayment of €450,000 ($480,000), had already resulted in the latter's resignation in December from a subsequent role she took within the Portuguese government, and that of Portugal's infrastructure minister Pedro Nuno Santos.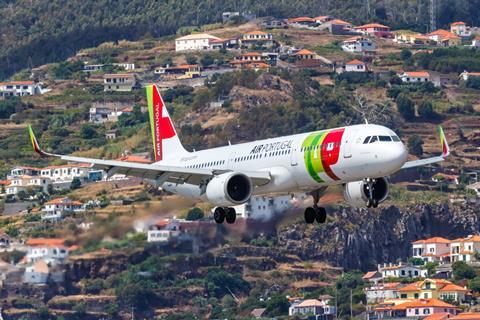 Portuguese finance minister Fernando Medina has, after accepting a final report into the matter from the country's General Finance Inspectorate, taken the decision to dismiss Beja and Ourmieres-Widener from their roles.
"I want to point out here, unequivocally, the good results of the current team of management in implementing the restructuring plan," Medina says in a statement, but adds it is time for a "turning of the page" in the company's management. "In this regard, the government decided to dismiss, with just cause, the president of the board of directors and the president of the executive committee of TAP."
Former CityJet and Flybe chief executive Ourmieres-Widener has been in the role since the summer of 2021. The chief executive of Azores carrier SATA Air Acores, Luis Silva Rodrigues, has been appointed to fill both roles at TAP.
"With this set of decisions, the conditions have been met for us to focus on the fundamentals: proceed with reinforced confidence the recovery and sustainability path of a strategic company for the prosperity and affirmation of our country," Medina adds.
The change of management comes as Portugal is preparing TAP Portugal for possible privatisation. The Portuguese carrier has been expecting to post a "good" full-year performance after reporting record third quarter revenues.
Following his dismissal, Beja issued a statement noting the severance decision was approved by the shareholder and legality confirmed at the time by a law firm contracted for that purpose. "It was thus, in good faith and according to the instruction of the guardianship, that I fulfilled my duty of loyalty in the implementation of a decision that is legitimately taken by the shareholder. However, it is now clear that the legal advice received and executed in good faith has made mistakes."