Cargolux has generated a full-year pre-tax profit of $1.7 billion for 2021, but it warning that global trade is likely to suffer from the effects of the pandemic and the geopolitical situation in Ukraine.
Pressure on supply chains will continue, the Luxembourg-based freight carrier states, with border restrictions still in place – notably in Asia, which it describes as the "powerhouse" of global production.
Closure of Russian airspace has increased flight times to Asia, at a time when jet fuel prices are volatile, and restrictions on the Russian-operated fleet has further limited available capacity.
"Global supply chains continue to experience considerable strain, probably even more than in 2021, and capacity is not expected to recover to pre-pandemic levels in the coming months," says the carrier.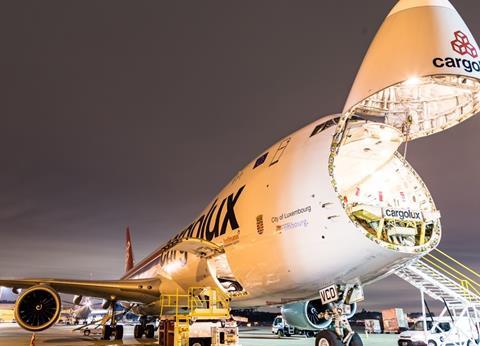 Cargolux generated revenues of $4.4 billion over the course of last year and it ended the period with a net profit of $1.3 billion.
"The increase in financial performance was driven by both an increase in tonnage and higher yields," it says.
"This allowed the further strengthening of the group's balance sheet, especially in the building up of its cash reserves."
Cargolux argues that the operational situation last year was "more challenging" than that in 2020, with a combination of quarantine measures, crew confinement, lack of qualified staff, full warehouses and shortage of trucking.
"Temporary blockage of the Suez Canal also resulted in customers' further relying on air cargo for their shipments," it adds. These elements exacerbated a capacity shortage and drove year-round high volumes and strong yields.
Cargolux operates a fleet of 30 Boeing 747 freighters, comprising 14 747-8Fs, 10 747-400Fs and six 747-400ERFs.