Budget carrier Ryanair believes the air transport market remains too fragile to predict full-year financial results, despite turning in a profitable first quarter.
The potential for new coronavirus variants emerging in the autumn, and the effects of the Ukrainian conflict, it says, show the market is "fragile" and any recovery over the current fiscal year 2022-23 will be "hugely dependent" on there being no adverse developments.
Ryanair generated a net profit of €170 million ($173 million) in the three months to 30 June, on revenues of €2.6 billion.
The airline says that, although it was profitable over the first quarter, the figure is still 30% down on the equivalent pre-crisis figure in fiscal 2019-20.
While Ryanair has observed "clear signs" of pent-up demand, bookings remained close-in for the period. It says Easter holiday bookings and fare levels were "badly damaged" by the outbreak of conflict in Ukraine in February.
"We have limited visibility into the second half of [the second quarter] and almost zero visibility into [the second half of the year], when we are typically loss-making," it says.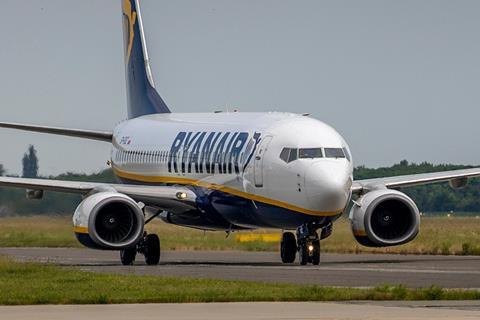 Ryanair adds that its proportion of unhedged fuel is subject to increased cost from high oil prices.
"It is too soon to provide meaningful [full-year net profit] guidance at this time," it says, given the booking profile, lack of visibility, geopolitical and supply-chain risks, and other concerns.
Ryanair is offering summer capacity 15% above pre-crisis level, and fares for the second quarter are slightly ahead of their pre-pandemic figures.
Chief executive Michael O'Leary claims the company's efforts to minimise job losses over the last two years has been "vindicated", because the airline is "fully-crewed" despite the higher operating capacity – arguing that this "seems unusual" among major European carriers.
Airport handling disruption has affected the airline's services but O'Leary says he is "confident" that the carrier can operate "almost 100%" of its scheduled flights while minimising delays.