Irkut has painted an MC-21 twinjet in the colour scheme of Aeroflot Group carrier Rossiya, the first airline set to receive the type.
The aircraft was painted at a facility in Ulyanovsk.
Rossiya was designated as the main operator of Russian-built aircraft under a re-organisation by Aeroflot Group prior to the sanctions regime imposed as a result of the Ukrainian conflict.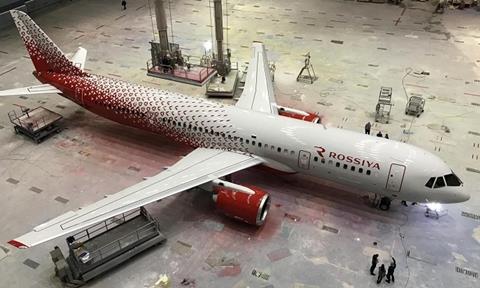 The airline says it has gained "valuable experience" through the introduction of the domestically-manufactured Superjet 100.
Rossiya has 74 of the type in its fleet.
It states that the MC-21 cannot yet be added to its operator's certificate as the model is still undergoing certification.
But it says that the prototype will be operated by Irkut and used for training the carrier's instructors on the twinjet.
Three prototype MC-21s will be painted in the airline's livery.
Aeroflot Group and Irkut also aim to draw up a programme for maintenance of the MC-21 at airports on the type's eventual route network.