Aeroflot Group carrier Rossiya is introducing a new in-flight entertainment system which will be extended to its new Irkut MC-21 fleet.
Rossiya is set to become the first operator of the MC-21 when it takes starts taking delivery of the twinjet type next year.
The airline says it has started modernising its fleet with the new streaming entertainment system, known as RPortal.
It states that the system will be accessible from any portable personal device, with content including film, TV series, publications and audio material, as well as two-way online communication with cabin crew.
Passengers will also be able to choose an upgraded seat on board.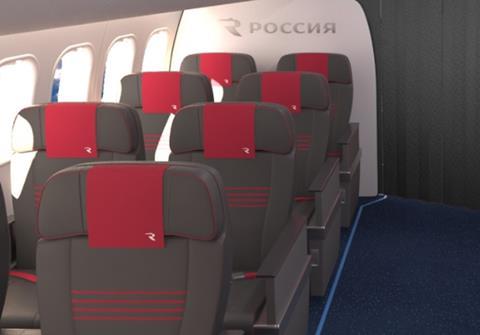 Rossiya says customers will also be able to read information about their flight and "get to know" the operating crew in real time.
"It is planned in the future to expand significantly the range of services provided and to personalise the service as much as possible," adds the airline.
Rossiya states that the RPortal will be introduced on its Sukhoi Superjet 100 fleet – which is being acquired through a transfer from Aeroflot – as well as the MC-21-300.
"It will be possible to use the new on-board system on all the airline's flights, including short regional ones," it adds.