Royal Jordanian Airlines has signalled that it is looking to step up to Boeing 787-9 operations, as it seeks to acquire three of the variant.
The airline's 787 fleet, totalling seven aircraft, entirely comprises the smaller -8 model.
But the carrier had previously disclosed that it was seeking to increase its complement of the twinjets.
In its newly-released annual report, Royal Jordanian reiterates that it is working to modernise its fleet with 20 Airbus A320neos and 10 Embraer E2s. Its single-aisle fleet includes 15 A320-family jets and four Embraer 175s and 195s.
The airline adds that it is "in talks" to increase the number of 787s and replace older ones.
Royal Jordanian says it expects to conclude a lease agreement for three 787-9s, and had been looking to reach a deal in the first quarter of this year.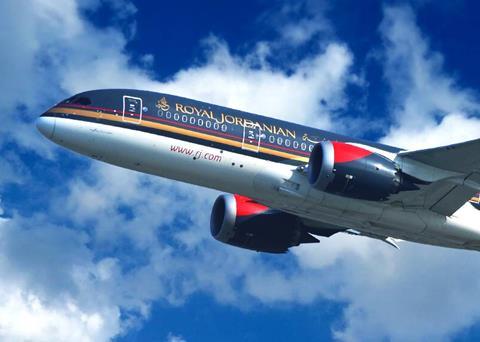 Its full-year financial statement confirms the airline's operating loss of JD58 million ($82 million) and net loss of JD79 million for 2022, and that its total liabilities still exceed its total assets by JD68 million.
The carrier says the pandemic crisis "looks to be over" based on travel demand, but it highlights the uncertainty posed by fluctuations in oil prices.
It is striving to restore all operations affected by the pandemic, and aims to add seven additional points to its network this year, while looking to serve transit traffic by improving co-ordination of arriving and departing flights at the Amman hub.
Royal Jordanian says its network will feature 364 weekly services – mainly Middle Eastern, but featuring 20 to North America and 89 to Europe.
It adds that it hopes to restart services to the Syrian and Libyan routes of Damascus, Aleppo, Tripoli and Benghazi "as soon as security conditions permit".