Royal Jordanian Airlines is to take Airbus A320neos to replace its fleet of conventional A320-family jets, and is discussing introduction of additional Boeing 787s.
It is also intending shortly to disclose a regional jet selection with the aim of bringing in the chosen aircraft from the second half of next year.
The airline has a strategic plan to increase its fleet from 24 aircraft to more than 40 over the next three to five years.
Royal Jordanian is to acquire 20 A320neos under an agreement with Airbus, to replace 13 older aircraft.
No engine selection has been given by the flag-carrier. Its single-aisle Airbus fleet – comprising A319s, A320s and A321s – is powered by a mix of CFM International CFM56s and International Aero Engines V2500s.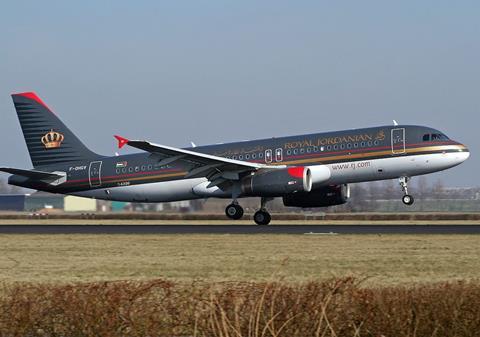 Chief executive Samer Majali says the A320neo family is the "best choice" for the modernisation and expansion programme, particularly given the carrier has been a long-term user of A320s.
"An advantage that influenced the selection process is the broad technical and logistical support in the region and at all airports where the airline operates this type of aircraft," the carrier states.
It adds that the aircraft will be configured with internet capability, as well as lie-flat business-class seats on certain long-range routes.
Along with the 13 Airbuses, Royal Jordanian has seven 787s and four Embraer regional jets.
Majali says the airline is discussing increasing the 787 fleet to 11 aircraft and is evaluating both the 787-9 and 787-10.