Russian carrier Smartavia is to switch to Airbus A320neo twinjets next year, planning to lease three of the type to expand its fleet.
Smartavia – which was formerly known as Nordavia – is an all-Boeing 737 operator, with 14 aircraft.
Its fleet includes 737-800s and -700s, as well as a number of older -500s which have been stored. The airline says it has "decommissioned" the -500s, replacing them with more modern 737 variants.
"The company's development strategy forecasts an increase in passenger traffic in the post-pandemic period and we must be ready for this," says chief executive Sergei Savostin.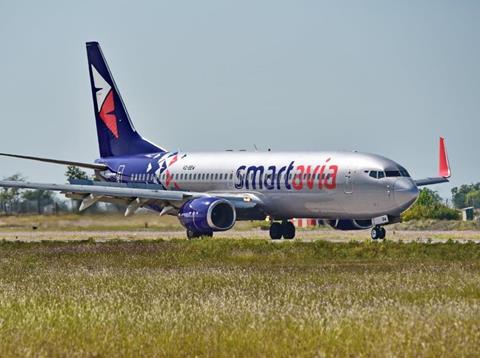 Smartavia aims to introduce three A320neos in 2021, in order to increase annual passenger numbers to 3 million.
"Mastering new technology will require additional resources and efforts from us," says Savostin.
"But, as a result, we will obtain even newer and more efficient aircraft that will allow the airline to achieve significant operational and financial results."
The Arkhangelsk-based carrier, which rebranded as Smartavia in March last year, will concentrate on scheduled flights within Russia and abroad, along with charter activities.
Russian carriers S7 Airlines and Ural Airlines operate A320neo-family jets, S7 having taken the country's first example in mid-2017.