Irish budget carrier Ryanair is playing down analysts' expectations over financial performance for the 2021-22 full year, despite trimming its loss forecast for 2020-21.
Ryanair says it "does not share the recent optimism of certain analysts", stating that it believes the outcome for 2021-22 is "currently close to break-even".
But it adds that it is unable to provide "meaningful" guidance for the new fiscal year, which began on 1 April, given the continuing uncertainty over air transport recovery from the pandemic.
Restrictions over the Easter holiday in the first week of April and a "delayed" recovery ahead of the summer 2021 peak season are likely to constrain passenger numbers to the lower end of its 80-120 million forecast, says Ryanair.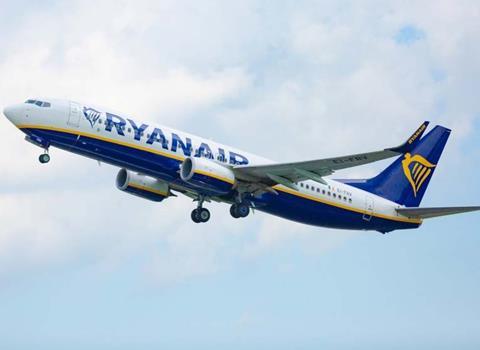 The airline has reduced its full-year 2020-21 loss forecast by around €100 million ($120 million), expecting to limit the figure to €800-850 million.
It says passenger numbers for the year, which ended on 31 March 2021, reached only 27.5 million – down from the previous 149 million – as a result of travel restrictions.
Ryanair had recently predicted a full-year loss of €850-950 million. The carrier will detail its 2020-21 financial results on 17 May.
It says its balance sheet remains "strong" with "significant" liquidity including year-end cash of more than €3.15 billion. Ryanair adds that 84% of its fleet of Boeing 737s, some 420 aircraft, is unencumbered.