Ryanair net profit for the third quarter more than doubled to €211 million ($230 million), in comparison with the same pre-crisis period, even though passenger numbers were up only 7%.
But it expects the fourth quarter to be loss-making, as a consequence of the late Easter 2023 holiday period.
The airline is maintaining a full-year net profit forecast – prior to exceptional items – of €1.325-1.425 billion, and expects to transport 168 million passengers over the 12 months.
"While bookings continue to be closer-in than in [pre-crisis] spring 2020…we have reasonable visibility for the remainder of [this fiscal year]," it states.
It attributes its strong third-quarter performance to "pent-up travel demand" over Christmas which helped to stimulated fares.
Revenues of €2.31 billion were 21% up on the pre-crisis level. Ryanair achieved a 93% average load factor for the quarter.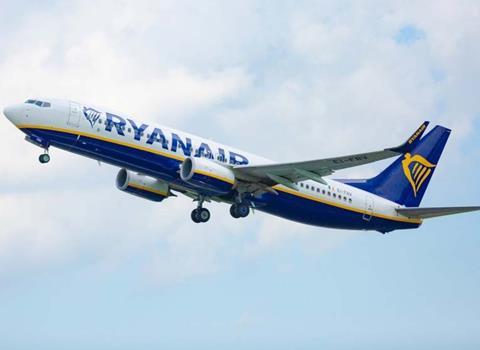 It has expanded its operation to include 84 Boeing 737 Max 8-200s, and the airline is aiming to have 124 in time for the summer season this year – although it continues to be cautious over possible delivery slips.
Ryanair's overall fleet has reached 523 aircraft, and it has started fitting scimitar winglets to more than 400 737-800s as a further fuel-saving measure.
Higher fuel expenditure – up more than a half to €900 million – drove the airline's third-quarter costs up to €2.15 billion, but it states that ex-fuel costs rose by 26%.
Ryanair has increased its fuel hedging for the first half of fiscal 2023-24, raising it to 60% at $90 per barrel. Its hedging for the remainder of the current fiscal year is 88% at $71 per barrel.