Russian operator S7 Group's new low-cost carrier division will be branded 'Citrus' – a name derived from 'cities of Russia' to reflect the airline's aim of offering point-to-point domestic connections.
S7 Group is planning to establish an all-Airbus A320neo fleet for Citrus.
It says the first four aircraft will be delivered following the signing of a provisional agreement, and that it intends to acquire six to eight more aircraft per year.
Citrus's fleet will increase to more than 20 by 2024 under the expansion plan.
S7 Group says the brand has also been chosen to signify a "vibrant and positive travel experience" and provide customers with a "fresh look" at budget flights.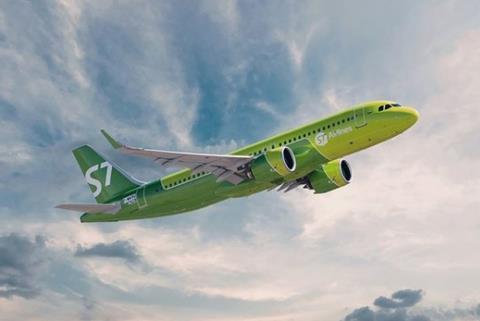 Services are scheduled to begin in July next year. The Citrus network will concentrate on regional flights within central Russia, allowing passengers to bypass hubs in Moscow.
S7 Group is forecasting that Citrus will carry 1 million passengers in its first year of operations.
Rival operator Aeroflot Group already has a budget airline in the shape of Pobeda, which uses Boeing 737-800s.